Hydrogen produced from renewables is better for the environment, super for society and great for business.
International development bankers, sovereign wealth fund managers, private bankers – all those that control the financing of large energy projects – all say the same thing: green hydrogen is a long-term financial certainty. Get the renewable energy mix right at cost-effective rates and you can produce green hydrogen on different economies of scale, depending on your investment capacity.
Europe's goal to become carbon neutral by 2050 includes the estimated domestic production of 10 million tons per year of hydrogen, together with the importation of the other 10 million tons per year to meet an estimated European demand for 20 million tons/year.
Where are these imports going to come from? From exporting states such as the United Arab Emirates (UAE) who have the capacity to produce hydrogen. Qatar – the neighboring peninsula off the eastern coast of Saudi Arabia – experienced a similar exponential growth with liquefied natural gas (LNG) that boosted its economy after exports began in 1997.
Estimates vary for the UAE's production capacity – depending on whether you are talking about blue (gas-powered) hydrogen or green (from renewables) hydrogen. Mariam Almheiri, Minister of Climate Change and Environment, claims that the UAE is aiming for 25% of the global market share for blue-green hydrogen production. Mohammed Abdelqader el-Ramahi, Chief Green Hydrogen Officer at Masdar says they are going for 5-8% of global market share for green hydrogen by 2030.
The ambition of the investments in hydrogen are colossal for a country smaller than Belgium. Investor interest parallels are being drawn with the liquid natural gas (LNG) bonanza that emerged as an unexpected alternative to coal and crude oil. As demonstrated by the shale gas extraction and LNG production and export from the USA, LNG is a global game-changer for the energy markets.
Similarly, hydrogen production gives the mega oil and gas corporations like Abu Dhabi National Oil Company (ADNOC), Chevron, and British Petroleum (BP) "a key role to play in the energy transition", according to Dan Feldman, Partner at King & Spalding. This is simply a reality of the energy industry: big oil and gas must be involved to accelerate change to cleaner sources of power.
Renewable energy investment and developments are mandatory for the production of green hydrogen.
Not surprisingly, Felipe Arblaez, Senior Vice President for Hydrogen and Carbon Capture and Storage at BP says: "we want to decarbonize at the lowest possible cost." The name of the game for Big Oil is to continue the exploitation of reserves while acquiring market share of the next source of alternative energy. The trick for the energy transition is to integrate renewables early in these innovations such as 'green' hydrogen to avoid the 20-year lock-in that pushes milestones further down the road.
While gray (fossil-fuel powered) and blue (natural gas) hydrogen dominates Egypt's energy outlook, investing in renewables is a major target for Egypt with plans to produce 95 Giga Watts (GW) from renewables (largely wind and solar) by 2035. As part of their Hydrogen Strategy with a target of gaining 8% of the global market for hydrogen production by 2040, renewable energy investment and developments are mandatory for the production of green hydrogen: without renewables, there is no green hydrogen.
Investments across the Middle East
Egypt was one of the early adopters of green hydrogen with the Kima plant in southern Egypt producing green fertilizer from hydropower coming from the Aswan Dam in the 1960s during the era of the pan-Arab nationalist Gamal Abdel Nasser. If it was possible then, it is definitely possible now.
Green ammonia, also produced from renewable energy sources is a key component for fertilizers and can be used for maritime shipping and for the generation of electricity. Clean ammonia is considered part of the green hydrogen package since hydrogen is a chemical compound needed in ammonia.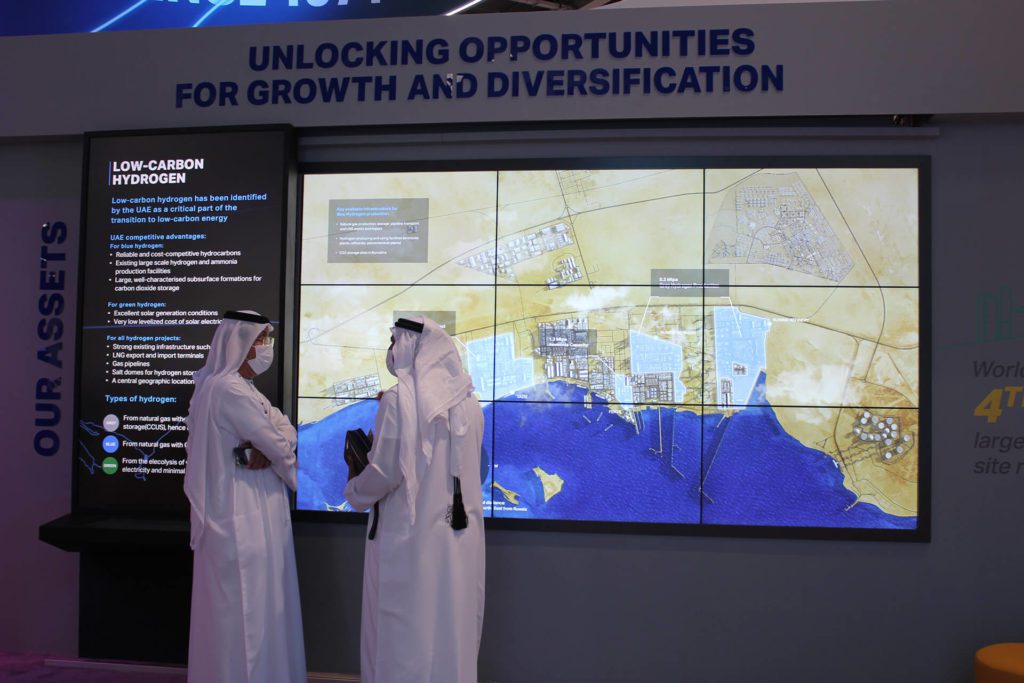 The first mega projects are moving forward now for green ammonia around the world: in Saudi Arabia, the NEOM city has created the first joint-venture industrial partnership for the production of green ammonia; in Canada, EverWind is going ahead with a multi-billion dollar project to produce 1 million tons per year of green ammonia to be exported to UNIPER and E.ON in Germany; and in Australia, Fortescue Future Industries is advancing with a 'brownfield' project using existing ammonia production infrastructure to produce green ammonia.
It is no surprise therefore that green hydrogen is perceived as a miracle solution for the oil and gas industry. As they search for sustainable solutions in the energy transition away from hydrocarbon fossil fuels, oil and gas countries and companies can use existing infrastructure to adapt and apply for the export of green hydrogen to help meet Europe's 50% quota and to appeal to more clients.
Green hydrogen "complements conventional fossil fuel production", according to Florian Merz, Director of UAE-industries, Mubadala, that can be applied as a substitute for much cleaner sustainable aviation fuels (SAF) and for maritime shipping – crucial components of global trade. Making aviation and shipping more sustainable would address 4.9% of global greenhouse gases.
Green hydrogen may "take a while" as stated by el-Ramahi from Masdar, but the UAE has been a first mover for such solutions, so 'a while' is not going to be that long: we are talking about international partnerships being signed now for the exploration of green hydrogen being exported to Europe and pilot projects going into effect by 2025.
Join Planet
REVOLVE today
We strive to communicate sustainability for a better world for the next generations.
Support us by becoming a member of REVOLVE Planet today.
Become a Member