Sultan Al Jaber's forward vision inspires hope for a sustainable future.
In June 2009, in the Egyptian resort town of Sharm al-Sheikh (famous now for hosting the greenwashed November 2022 COP27 UNFCCC climate talks), there was a growing buzz in the massive conference hall. "Sultan is coming on now! Sultan is starting soon!" I could hear some young Emirati talking nearby as we stood waiting for the show to begin.
Four countries were in contention to host the headquarters of the nascent International Renewable Energy Agency (IRENA) that – similar to the UN by seconding and hiring its staff – would include Member States from around the world. These Members were congregated in this hall to vote on where IRENA would be based.
I was mistaken for being a Belgian diplomat and had a fleeting moment of feeling what power I could yield if I were in a decision-making position for my country when I was approached by a Greek woman who leaned towards and whispered conspiratorially, "who is Belgium voting for?" I leaned towards her and inclined my head complicitly, "I don't know – I'm just a journalist." She frowned and moved on.
The four countries bidding for the headquarters were Germany, Denmark, Austria and the United Arab Emirates (UAE). People were chattering and plotting around the massive U-shaped formation of tables, the open end of which gave onto the stage and podium. The ambient brouhaha was building, people were taking their places, the lights were dimming. "There's Sultan now!"
Dr. Sultan Al Jaber was then the founding CEO of Masdar – a clean energy company that was created in 2006 by Mubadala (a massive Emirati state-owned holding company that manages the sovereign wealth fund and is known for not looking at deals below $100 million). Masdar is its sustainability company that has invested over $20 billion in projects around the world.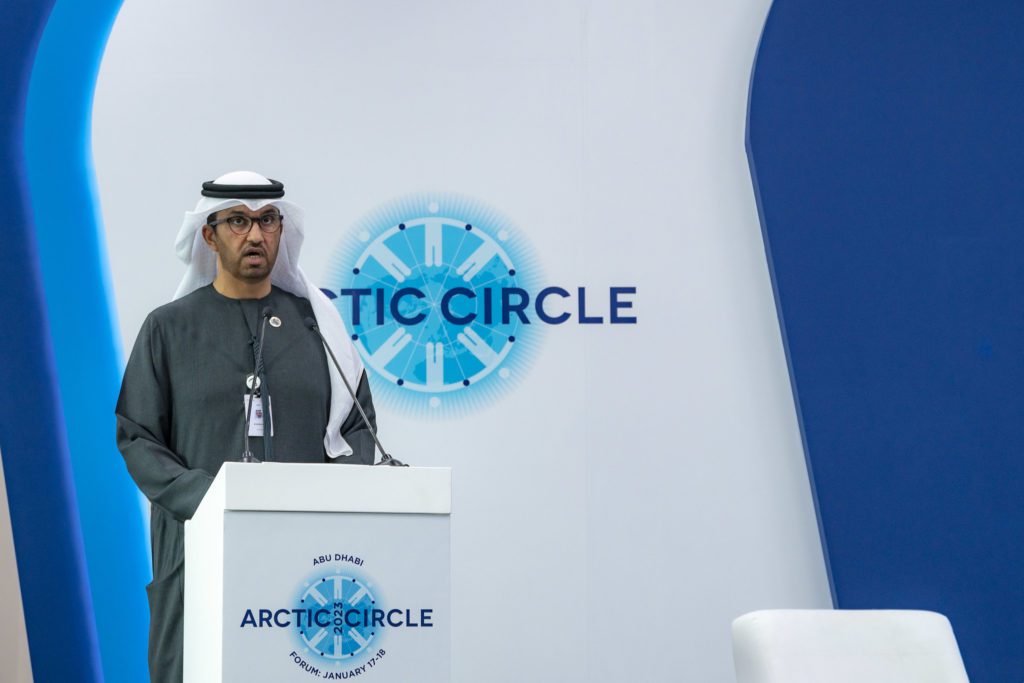 Masdar means 'source' in Arabic which, from a branding perspective, is a beautiful and fitting name as its mission is to support "the diversification of both its [UAE's] economy and energy sources for the benefit of future generations". Masdar invests in clean energy projects and enters joint ventures with foreign companies such as Infinity Power (with Egyptian Infinity) and Emerge (with France's EDF).
There is a long-term forward-looking vision to Masdar that generates real results on the ground and that inspires enthusiasm and hope for a better future. As Sultan walked onto the stage, the lights went out and everyone fell silent. Then a beat started deep in the arena and the lights started flashing. Then Sultan presented the future with images and solutions and hope and inspiration.
When he finished his pitch, he thanked and bowed to the audience. The room burst into applause. African, Asian and South American representatives were on their feet cheering and shouting. Sultan had hit a 'grand slam' as the North Americans would say (with the help of the same PR/Comms team that did Obama's 'Yes We Can' campaign). Denmark followed with a PowerPoint presentation.
The UAE won the IRENA headquarters and Germany negotiated to have the Technical Office in Bonn. Geopolitical power shifts were taking place. Momentum was building towards a historic deal to be signed by all countries in December 2009. And then Obama torpedoed the UNFCCC climate negotiations at the last minute by not endorsing the global deal.
Sultan started his career as an engineer at the Abu Dhabi National Oil Company (ADNOC) and holds a PhD in business and economics from Coventry University. He got his MBA from California State University Los Angeles. He has participated in the public listing of many companies and operates at ease in the financial world where the billions float around like intangible mirages for most of us.
In 2013, he joined the UAE Council of Ministers and then became the UAE Minister of Industry and Advanced Technology and Chairman of Masdar. He knows many incumbent and former heads of state from Iceland to Mexico to Japan. He embodies the bridge between politics and business. In 2020, he was appointed CEO of ADNOC.
The most controversial feather in his headscarf was to be assigned the position of COP28 President-Designate of the next UNFCCC climate talks to take place from 30 November to 12 December 2023 in the Emirates. Western outrage over his assignment as epitomizing the 'hijacking' of the climate talks by the oil and gas industry is either ignorance or denial of reality on the ground.
Oil and gas have been there all along, behind the curtains, lobbying politicians and bending deals. The Emirates is defined by oil and gas, so it is impossible to uncouple business and government: it's two sides of the same coin. Sultan is that coin and he will use his charisma, clout and power to make COP28 the most successful climate conference yet. Big contracts will be signed in favor of sustainability.
---

Join Planet
REVOLVE today
We strive to communicate sustainability for a better world for the next generations.
Support us by becoming a member of REVOLVE Planet today.
Become a Member