Reconnecting with citizens for smart and sustainable mobility.
Toulouse has an ambitious vision: working alongside citizens, industry, and public authorities to build tomorrow's smart city. This means connecting the dots across people, infrastructure, modes of transport, technology, environmental concerns, and decarbonization to create a more fluid, friendly, innovative, dynamic, attractive, and sustainable cityscape. 
This vision is shared on an even larger scale by ERTICO-ITS Europe. These topics were discussed in the first of a new webinar series ahead of the 2022 ITS European Congress at the MEETT Exhibition and Conference Centre in Toulouse, from 30 May to 1 June. The congress theme is Smart and Sustainable Mobility for all.
"The challenges we all face are not really new – the European Green Deal, digitalization, resilience – but they are accelerating dramatically," says Jean-Claude Dardelet, Deputy Mayor and VP of Toulouse Metropole, ERTICO partner, and congress co-host. "The resilience of our city can be summarised by the attention we give to our citizens' quality of life, on the outstanding smart services we want to deliver, and a sustainable economy and jobs based on talent and our excellencies." He points to the Toulouse 'magic triangle' that comprises domain excellencies in education, research, and industry.
5 key takeaways
The opportunity is to create more fluid, dynamic, attractive and sustainable cities for people.
Toulouse is a leader in progress towards integrated, cleaner, smart mobility: €4 billion investment.
Achieving smart and sustainable mobility requires 'connecting the dots' effectively.
Innovating across sectors and deploying strong public/private partnerships are critical.
The ITS European Congress in Toulouse has something for everyone in the ITS ecosystem.
So why, specifically, is the 2022 congress coming to the pink city? Toulouse also has what Jean-Claude calls "the most important investment plan in transport": more than four billion euros for public transport infrastructure over the next decade. "With four million individual displacements daily, the city is committed to integrated mobility," he says. For example, this already includes an innovative new urban cable car system integrated into the public transport network.
"We focus on 'virtuous innovation' with exhaustive use of digital and climate-friendly solutions," Jean-Claude continues. In fact, he calls Toulouse "the home of smart and sustainable mobility" – given it is home to technology and innovations including underground metro lines, automotive manufacturing, overland rail, high-speed trains, civil aviation including drones and new hydrogen airplanes, Ariane launch vehicles, Galileo satellite navigation, and even driving missions on Mars every two weeks from the city, plus managing the Mercator Ocean sea-state forecasting system. A huge number of organizations and international partners involved in these activities are exhibiting and presenting at the ITS European Congress. 
'Something for everyone'
"The congress is a wide-ranging event that includes a highly technical program – with more than 100 sessions, there's something for everyone," says Lisa Boch-Andersen, Congress Director, ERTICO-ITS Europe. "While we will welcome visitors from around the world, reflecting the global and connected nature of supply chains, mobility, transport, and logistics, this event is created by and for our European members, partners, and stakeholders." The ITS Summit brings together public and elected officials from across Europe with industry leaders during the congress. At the same time, the Start Up Hub offers a dedicated exhibition area, pitching possibilities, and awards. The popular Public Day invites local residents to explore smart mobility: services for citizens is a key theme, alongside next-generation mobility, green and sustainable mobility, moving from large-scale trials to deployment, and cities as logistics hubs.
Jean-Claude Dardelet adds, "The congress will feature unique demonstrations including autonomous vehicles, driving assistance, teleoperated driving, managing crossroads with traffic lights for AV, and urban air mobility/drones. Technical visits include the 'factory of the future' (Actia), the innovation laboratory for mobility and industrial R&D (Continental, Renault), the mobility center of excellence (UAM) at Francazal, and new public transport infrastructure with our Tisséo network."
Moving closer to smart and sustainable mobility
"To help us move towards smarter and more sustainable mobility for all, ERTICO has defined roadmaps across the four focus areas of Connected & Automated Driving, Clean and Eco-mobility, Urban Mobility, and Transport & Logistics," says Johanna Tzanidaki, Director of Innovation and Deployment, ERTICO-ITS Europe. "These are reflected in interactive special interest sessions at the congress." For example, 'Data exchange for interoperable mobility services in Europe' (services for citizens strand) covers multi-partner innovation platforms under the ERTICO umbrella, including TISA for traveler information, TM2.0 for traffic management, MaaS Alliance (Mobility as a Service), TN-ITS GO map exchange platform, and SENSORIS (SENSOR Interface Specification). The congress website will have details of all the special interest sessions as details are finalized. 
'Together we are stronger'
"The congress will make ITS and smart mobility tangible," says Joost Vantomme, CEO of ERTICO-ITS Europe. "We are unique in running events of this nature: this is about innovation, creating tomorrow, and making the journey together with our partners, across many different modes of transport."
Continental is one such partner and will present tangible innovations in Toulouse. "We are a leader in access technology: almost 40% of all key fobs are produced by Continental, with many produced in Toulouse," says Bruno Krief, Product Manager Europe – Key as a Service, Continental Automotive France. Continental's secure Key as a Service (KaaS) platform for vehicle access, start authorization and vehicle data upload utilizes cutting-edge electronics, cloud technologies, telematics, and cyber security. "The purpose is to improve the user experience and serve current mobility trends, through selective sharing, for example," Bruno says. "This could mean providing access to trunk only for deliveries, friends and family car sharing, or programming key sharing for certain times only. We can give highly versatile access to a car using digital technologies like smartphones, smartwatches, and NFC cards with a reader on the windshield." The many applications include commercial fleet management, rental cars (Avis is already a customer), peer-to-peer car-sharing (e.g. Turo), and mobility service providers.
Joost Vantomme adds, "Smart mobility can only really be achieved if we can effectively connect the dots, innovate across sectors, and deploy strong public/private partnerships for many projects and platforms. This world will be brought alive in Toulouse — I hope to meet you there!"
Dates for your diary: Registration opens on 15 February, and the early bird deadline is 19 April. The congress app launches on 1 May and the event opens on Monday 30 May.
In partnership with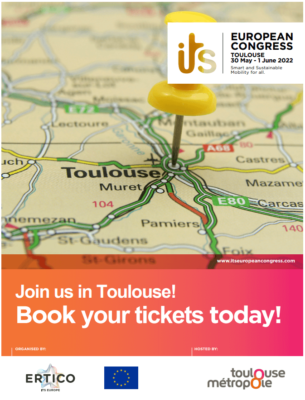 ERTICO is a public-private partnership for promoting, developing and providing Intelligent Transport Systems (ITS) in Europe and beyond. As a thought leader, ERTICO engaging relevant stakeholders to advance the smart mobility agenda by promoting and facilitating the roll out of ITS through a variety of European co-funded projects, Innovation Platforms, international cooperation and ITS Congresses.
Join Planet
REVOLVE today
We strive to communicate sustainability for a better world for the next generations.
Support us by becoming a member of REVOLVE Planet today.
Become a Member