Ferries carry just 5% of commuters in Stockholm yet represent 50% of its emissions. There is a similar story being told across the world as waterborne mobility has long been neglected in technological and policy developments to promote greener, more sustainable travel options. But now, plans are underway in Stockholm that will provide cleaner, safer, and healthier alternatives to maritime commuting.
Approximately 2.1 billion people use ferries every year, putting the industry on a par with commercial airlines in terms of annual users worldwide. To many cities and their citizens, travelling the waterways lies at the heart of everyday life.
Yet these coastal and riverside towns are too often defined by the pollution of both the surrounding waterways, and the air inside their cities, tarnished by ferry traffic powered by highly polluting marine diesel.
While some cities have mandated the switch to 'fossil-free' biodiesel, these vessels are still omitting harmful particles that cause numerous health issues for people, and those billions of people who are using ferries each year deserve better.
Change has been slow
Despite a widespread push to reduce emissions, ferries have long been neglected in the drive to create cleaner, greener public transport in cities. A common focus for many cities has been placed on transforming bus networks with the consistent development of new technologies – better batteries, more charging points, and producing new buses at more affordable prices. In 2020 alone, the electric bus market grew by 22%, with the European Commission (EC) again setting new ambitious targets to encourage cities to convert their bus fleets to more sustainable alternatives.
Electric cars have also become a symbol of the drive for more sustainable travel options. At the heart of the EC's 'Fit for 55' strategy is, that by 2035, 100% of all new cars produced in the EU will be 'zero emission', with all the necessary infrastructure in place to support them.
Of course, these developments to more sustainable transport solutions are to be welcomed, regardless of whether a 2035 target date is too conservative. But real action on climate change requires reform across all transport sectors for it to be truly effective.
No low-emission cities without cleaner ferries
In 2019, the city of London introduced an 'Ultra-Low Emission Zone' to curb emissions, but also to improve the quality of life of its residents. Yet this zone did not include maritime transport, which is instead managed by the London Port Authority.
In 2018, Ralph Hardwick was campaigning against a new cruise port slated to be built on the Thames in Greenwich. "Nothing on the Thames has really got emission controls, so when the mayor is trying to have ultra-low emissions, it's just not going to touch the river," he stated.
Plans for a cruise port in Greenwich were eventually shelved after prolonged, vociferous protests, but emissions targets for the Thames' maritime traffic continue to 'kick the can down the road' with targets stretching into 2051.
This highlights how the disconnect between ferries and public transport is resulting in a disjointed effort to tackle emissions. Furthermore, what is lost in the international and global emission targets is what this means for citizens in the short term, as air pollution continues to kill 400,000 people annually in the EU.
Plans for cleaner waters
However, there are plans being developed across Europe that would give higher priority to marine transport. One ambitious initiative – the 'Boatplan Stockholm 2025' – has set out clear goals to improve the environmental impact of the archipelago's public transport fleet.
Under the plan, all maritime traffic in the entire Stockholm archipelago would become 100% emission-free, with boats using either electricity or hydrogen as fuel.
These changes build upon guidelines set out by local politicians in the region, committed to reforming public transport between Stockholm's many islands. This would be a significant step towards reducing climate and environmental impacts, while also delivering a more attractive service for its residents.
This is by no means a simple task. Of the 62 vessels currently in use on Stockholm's archipelago, the majority are over 40 years old. Older vessels mean a decrease in energy efficiency and make many boats unsuitable to be converted to be emission free.
A four-part plan for the new fleet would consist of: new, efficient emission-free vessels; the selection of new existing vessels for hydrogen conversion; plus new or old vessels being converted to battery power – with select historic vessels remaining for assisting in peak times.
Most of the fleet would fall under the new emission-free category. These boats would be made by the Swedish-based company Green City Ferries, who unveiled their new ferry – the Beluga24 – as the world's first electric and hydrogen high-speed catamaran ferry. With two emission-free options – electric for short journeys and hydrogen for long – the Beluga24 has been designed as a multipurpose solution for public transportation with space for 150 passengers and 28 bikes. The sexy design and futuristic feel of the Beluga24 will give commuters the feeling of really being part of the energy transition that is spreading across Europe. The introduction of high-speed ferries (30 knots) with low wake signature constitutes not only an attractive way to commute but also a convenient timetable that can compete with land-based alternatives for commuting.
Green City Ferries has a collaboration with Teknicraft – a company from New Zealand with over 25 years' experience in the design of hydrofoil supported catamarans – who were able to create a design specific to commercial passenger vessels. In collaboration with renowned Italian yacht designer – Studio Sculli – who created the futuristic interior & exterior design, they claim to have created a vessel that is an attractive option for city governments and port authorities looking to reduce emissions, but more importantly as an improved means of transport for urban commuters and tourists.
What is the cost?
While there has been a shift towards prioritizing the environmental impact of sustainable mobility projects, there is still a bottom line for municipalities, cities and national governments that shapes the uptake of such schemes.
For the Boatplan 2025 for Stockholm, Green City Ferries say that the costs are not only manageable, but could in fact be lower than continuing to use the existing fleet and running them on biodiesel.
Given the speed at which technology is developing in the field of electric- and hydrogen-powered vehicles, in combination with increased pressure on policy-makers to shift away from marine diesel and biodiesel, it is essential that new vessels can be updated and retrofitted in the future. The Beluga24 can be fitted with a rechargeable battery or a hydrogen-fuel option, making it versatile and allows for future changes should the technology allow it in the future.
The Beluga24 High-Speed Catamaran Ferry
Key design challenge
The biggest challenge with electric vessels is the weight of the components that provide the electric power. This is the case in both battery-electric and hydrogen fuel-cell electric systems. The weight typically far exceeds the weight of a conventional diesel engine vessel.
The solution
The main feature of the vessel is the hydrofoil system. The lifting force created by the hydrofoil when the vessel is operating at cruise speed effectively reduces the displacement of the vessel, lifts the hull partly out of the water, and thereby reduces the resistance, alleviating the impact of the additional weight of the electrical propulsion system.
In addition to its versatility, the ferries are also more efficient than the existing models. By incorporating foil-supported hulls and a raised bow to reduce drag, they reduce the energy demand by 60-80% which in turn reduces operational costs.
With the potential combination of private and public investment, a decrease in fuel demand, and both lease and purchase options for the vessels – sustainable, emission-free ferries can be a cost-effective option for cities.
With the potential combination of private and public investment, a decrease in fuel demand, and both lease and purchase options for the vessels – sustainable, emission-free ferries can be a cost-effective option for cities.
Why hydrogen?
One of the unique features of Green City Ferries' Beluga24 is that it has both electric and hydrogen options for the platform of the vessel – but how does hydrogen really work and why is it a cleaner alternative to biodiesel?
Hydrogen fuel cells work similarly to batteries, but do not need recharging. Within each cell, a catalyst separates hydrogen molecules into protons and electrons, with the electrons going through an external circuit and creating a flow of electricity. All they require is hydrogen.
There has been significant debate on the use of hydrogen as a fuel, in particular between 'blue' and 'green' hydrogen. Green hydrogen is 'cleaner', produced by using only sustainably sourced electricity – whereas blue hydrogen is created using natural gas and thus considered a less clean option.
According to a December 2020 report by the International Renewable Energy Agency, green hydrogen is currently two to three times more expensive than blue hydrogen. Yet green hydrogen is expected to become cheaper over the next few years, with some estimates suggesting it will reach $2/kg by 2025 – widely considered to be the competitive baseline for more global uptake.
Green Hydrogen
Green hydrogen is produced by splitting water using electricity generated from low-carbon sources. It is generally more expensive than blue hydrogen, though prices are becoming more competitive.
Blue Hydrogen
Blue hydrogen is derived from natural gas. The process mixes natural gas with very hot steam, in the presence of a catalyst, where a chemical reaction creates hydrogen and carbon monoxide.
It is roughly between two to three times cheaper than green hydrogen.
Boats for the future
Fredrik Thornell, CEO of Green City Ferries, emphasizes this point. "If you look at the European plans for the hydrogen economy and all the policy papers and the European Investment Fund, you can find many large-scale green hydrogen projects. We see that the availability will be there. What we are providing is actually a solution to use this new green hydrogen that is being produced."
Green City Ferries' commercial vessel starts in 2023, in Österåker, Sweden, with a high-speed hydrogen ferry taking on longer routes within the archipelago. This is confirmed by Michaela Fletcher, Executive Mayor of Österåker: "We are interested in trying to develop an archipelago traffic that takes care of us and our future generations." And with other cities already showing interest in the technology, it might not be long before electric and hydrogen ferries are taking mobility into cleaner waters further afield as well.
Setting a precedent for bigger industries
As countries and cities turn their attention to making sustainable water mobility a reality, the wider shipping industry remains the 'elephant in the room'.
Stockholm has ambitious targets to become fossil free and climate neutral by 2040, and transforming our waterborne mobility with innovative solutions using electric and hydrogen ferries is a key component.

Daniel Helldén, Vice-Mayor of Stockholm, responsible for Mobility
Global shipping is expected to increase considerably over the next 30 years, and while the industry makes up just 3% of CO2 emissions, it is predicted that shipping could account for 10% of greenhouse gas emissions by 2050. In addition, ships in seaports emit particulates that are directly linked to health issues in port cities.
Despite the growing concerns on shipping emissions, unlike passenger ferries it is widely considered that long-haul shipping is not ready for a complete emission-free transformation, yet it does need to have increased scrutiny from the international community.
Shipping was initially left out of the EUs 2030 climate targets, but recent amendments to the EU climate strategy includes the need to act on shipping emissions. This still only goes so far as to state that data on emissions needs to be collected, and the International Maritime Organisation supported in its initial strategy to reduce emissions by 50% by 2050 – another example of long-term targets for a problem that needs action now.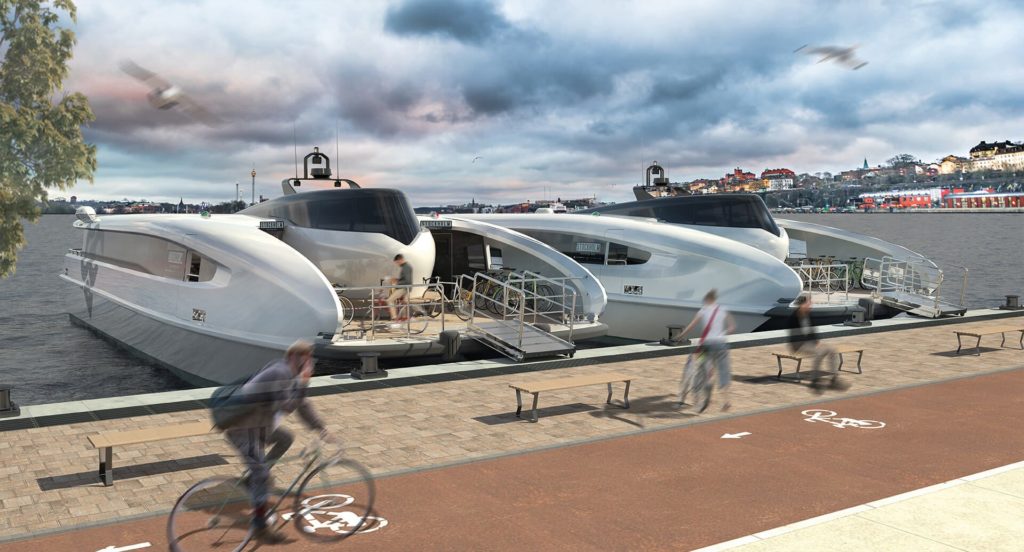 But the technology and investments are coming. As Thornell explains, "the speed at which technology is advancing, anything is possible. It was not long ago when the idea of battery-powered ferries was inconceivable – but now it is a reality. Our Beluga24 can be an inspiration for the wider shipping industry by showing what is possible already today in waterborne transportation" With increased investment in research and the will to change, emission-free shipping might not need to be just a dream set in the distant future.
The investments underway in Stockholm represent the beginning for cleaner waters and better, safer transport options for citizens. Moving forward past the launch of the pilot in Sweden, Green City Ferries has been contacted by many cities worldwide interested in hydrogen-electric technologies. Starting up GCF Americas on west and east coast, the company is poised to step up the push towards more sustainable travel on the world's waterways. Green City Ferries is setting a very precedent for what is feasible today to transform waterborne public transport systems with emission-free alternatives that are cost efficient, convenient, and attractive. By investing in zero-emission public transport across all mobility modes, Europe is positioning itself as a global leader in the transition towards fossil-free cities.
Fit for 55 – cutting 55% of emissions by 2030
Strengthen EU Emission Trading Scheme (ETS)
Extend ETS to maritime sector, reduce airline allowances
New ETS for road transport and buildings by 2025
ReFuelEU Aviation initiative to oblige sustainable aviation fuel blends
FuelEU Maritime initiative to stimulate sustainable maritime fuels and zero emission technologies
More information on Green City Ferries: www.greencityferries.com
Join Planet
REVOLVE today
We strive to communicate sustainability for a better world for the next generations.
Support us by becoming a member of REVOLVE Planet today.
Become a Member