Cities from around the world are answering the call for climate action. REN21 brings you snapshots into Adelaide, Seoul, Kampala, Recife, Cape Town, Santiago and more!
The pandemic has thrown into stark relief the global battle of cities for cleaner air, healthier living environments and a better future. The REN21 Renewables in Cities 2021 Global Status Report is the annual stock-take of the global transition to renewable energy at the city-level. It shows that more than 1 billion people – about 25% of the urban population – live in a city with a renewable energy target and/or policy. Over 1,300 cities have demonstrated leadership in advancing renewables beyond the power sector.
More than half of the global population live in cities, which account for three-quarters of global final energy consumption. With their impact at scale, urban areas will play an important role in accelerating the global uptake of renewables. Rapidly replacing fossil fuels with renewables across high-polluting sectors is also an urban opportunity to create sustainable, equitable and thriving cities, which are also more resilient, with more local jobs and cleaner air. To achieve this, there is an urgent need for cities to step up their game and take bolder actions on renewables, but national governments also must put money, capacity and above all legislative powers into the hands of local authorities.
Over 1,300 cities have demonstrated leadership in advancing renewables beyond the power sector.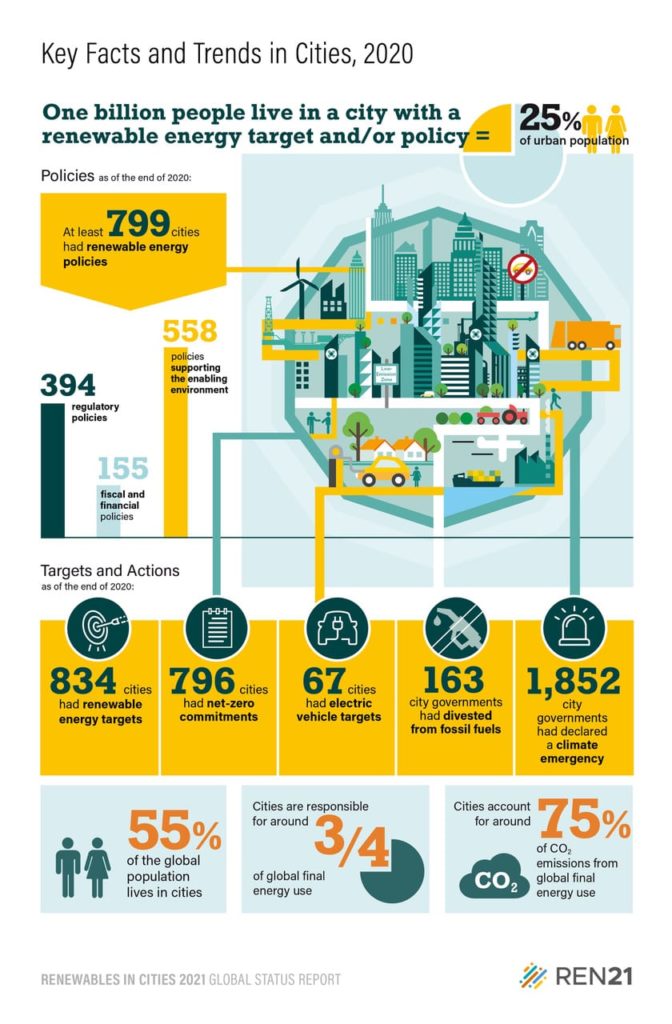 A flavor of clean air and clear skies
Last year's lockdowns with the sudden disappearance of traffic, the complete alteration of lifestyles resulting in cleaner air and less noisy environments, have given citizens a flavor of how alternatives to packed roads and polluted skies could look. In cities 100 km away from the Himalayas, the towering mountains could be seen for the first time in 30 years. This has contributed to the growing awareness and potential of renewables to help create clean, livable and equitable cities, while advancing local economic development and improving energy access for the millions of people living in slums and informal settlements.
Renewables, net-zero and beyond
Driven by growing concerns of air pollution and public pressure for climate action among more actors, city commitments to support renewables more directly are increasing. At the end of 2020, over 830 cities in 72 countries had adopted renewable energy targets with more than 600 cities worldwide having targets for 100% renewable energy. Most of the small- and medium-sized cities have emerged as frontrunners in target-setting, but also megacities such as Beijing, Cape Town, Copenhagen, Frankfurt and Seoul are committing to renewables. While most local renewable energy targets address the power sector – similar to national-level developments – momentum has grown for policies that go beyond power and are expanding to heating and cooling and the transport sector or an integrated policy approach.
At the end of 2020, over 830 cities in 72 countries had adopted renewable energy targets with more than 600 cities worldwide having targets for 100% renewable energy.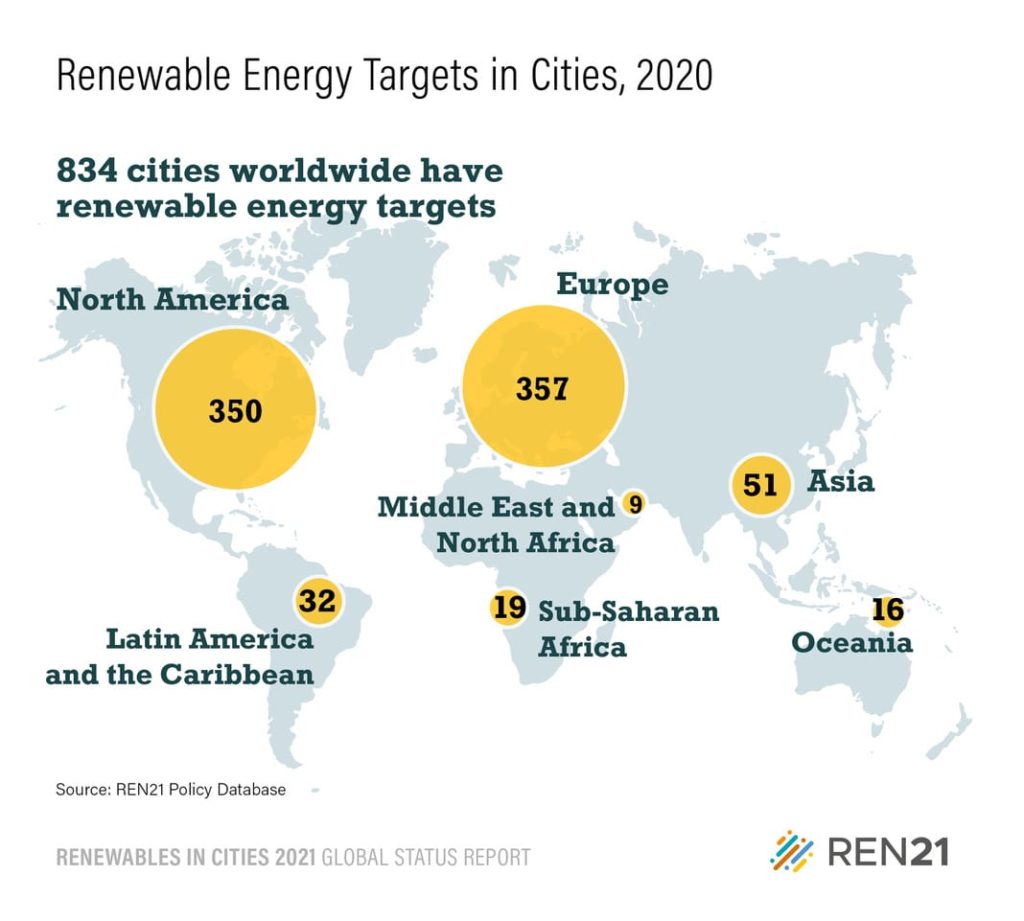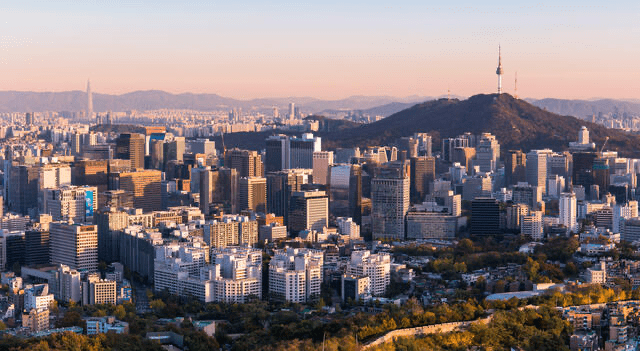 Renewables ambition despite space constraints

Seoul has committed to becoming climate neutral by 2050 with an intermediate goal of 50% emission reduction by 2030. As part of this plan, the city launched the Solar City Seoul initiative, with the goal of adding 1GWp of solar power capacity by 2022. To secure enough space, the city is identifying new installation cities on public facilities and supplying PV panels to 1 million households. This will also benefit many low-income households and aims to add 4,500 new jobs by 2022.
Cities are going renewable and becoming part of the global movement towards net-zero. Commitments to transition away from fossil fuels can result indirectly in greater use of renewable energy city-wide: by 2020, over 10,500 cities had adopted targets to reduce their greenhouse gas emissions and around 800 cities had committed to net-zero emissions, with the number of such net-zero targets increasing roughly eight-fold from 2019.
Achieving city targets by using their own assets and procurement!
Cities are answering the call for climate action. To achieve their targets, cities are trailblazers for renewable deployment and use for their own operations. Installing or purchasing renewable energy for the city's own operations, buildings or fleets is often one of the first steps that city governments take to demonstrate the business case of renewables and stimulate uptake city-wide.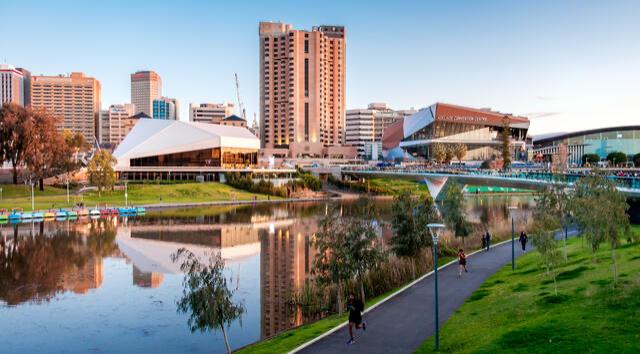 Achieving 100% targets

In mid-2020, Adelaide achieved its target to have its municipal operations powered by 100% renewables. The city had installed 8.3 MWp of solar PV capacity on city-owned sites and signed a power purchase agreement using electricity generated from wind and solar PV farms in surrounding territories.
There are thousands of examples of on-site renewable power generation projects in cities, most of which consist of solar PV systems installed on municipal or public buildings. In the transport sector, city governments have made strides to decarbonize municipal transport fleets and mobility infrastructure. Although some cities have continued to support the use of biofuels in fleets, urban policies and procurement increasingly have focused on the electrification of transport. Over half a million electric buses were in circulation globally. While most of them were operating in China, electrification is also gaining ground quickly in cities elsewhere in the world.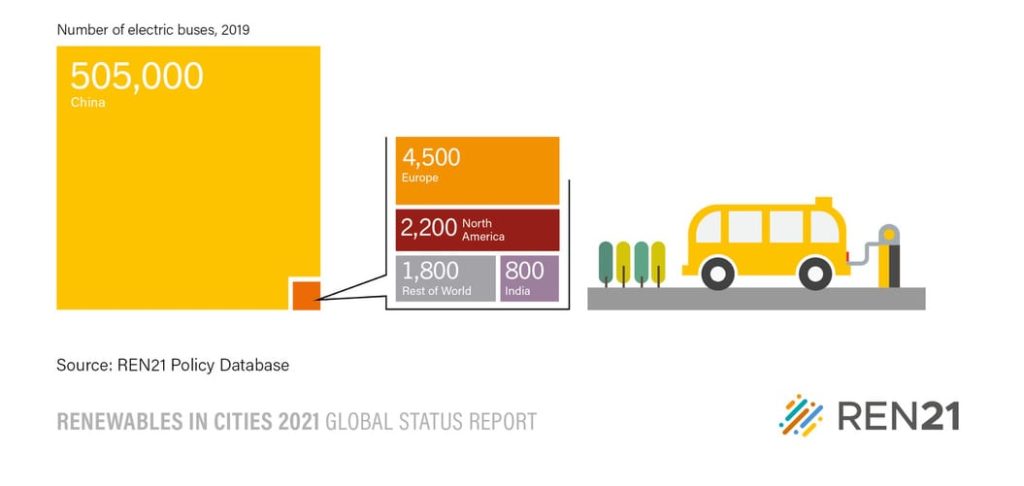 Electrifying urban buses

Santiago de Chile reportedly had the largest electric urban bus fleet outside of China. In 2020, the city announced a target to electrify 4,250 of its 6,600 buses by the end of 2021. The trend is similar in other Latin American cities: by late 2020, electric buses were operating in 10 countries in the region. Cities including Bogotá (Colombia), Buenos Aires (Argentina) and São Paulo (Brazil) – have started to electrify their bus fleets to address local air quality concerns.
Getting creative with what is under city control
Achieving urban renewable energy targets depends not only on political commitment and municipal investment in renewables, but also the city's ability to enable the uptake of renewables city-wide, by other actors. Contrary to the slow national-level trends, momentum has been growing for city-level policies that move beyond power but also support renewables in heating and cooling, the transport sector and integrated policy approaches. By the end of 2020, around 800 municipal governments had implemented regulatory policies, fiscal/financial incentives that directly support renewable energy, as well as indirect support policies that enable the uptake of renewables city-wide.
Urban policy trends for buildings include the rise of municipal codes and mandates for new buildings that require renewable energy use for electricity or heating (usually solar PV or solar thermal). Renewables for existing buildings are encouraged through financial and fiscal incentives. Momentum is growing rapidly for bans and restrictions on fossil fuels in buildings: as of 2020, a total of 53 cities spanning 10 countries had proposed or passed bans or restrictions on the use of gas, oil or coal in buildings for space and water heating and cooking – most of them apply to new buildings but some also in case of building renovations.
To support the decarbonization of transport, municipal policies supporting electrification, notably via financial subsidies have expanded to also include taxis, scooters and private cars. There is also a growing number of low-emission zones and bans on certain fuels or vehicles, which are in place in 249 and 14 cities respectively, which have helped to drive up the use of renewables in urban transport.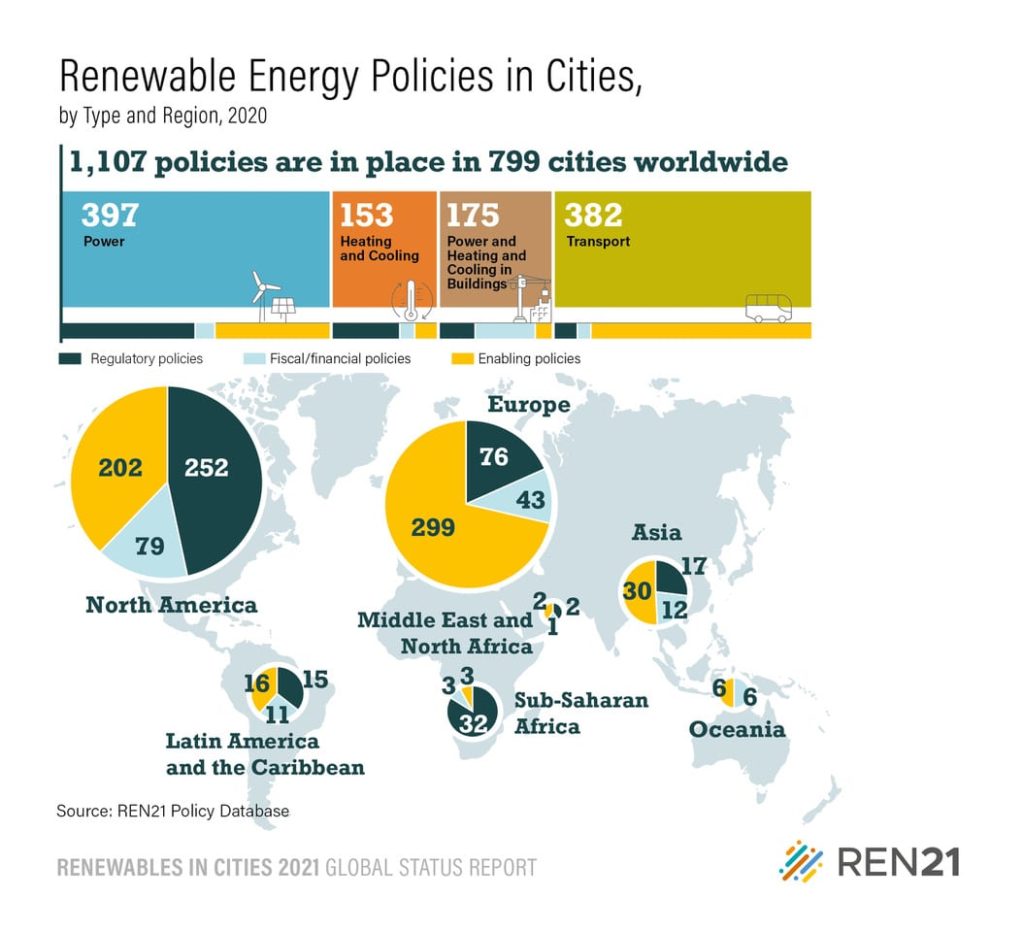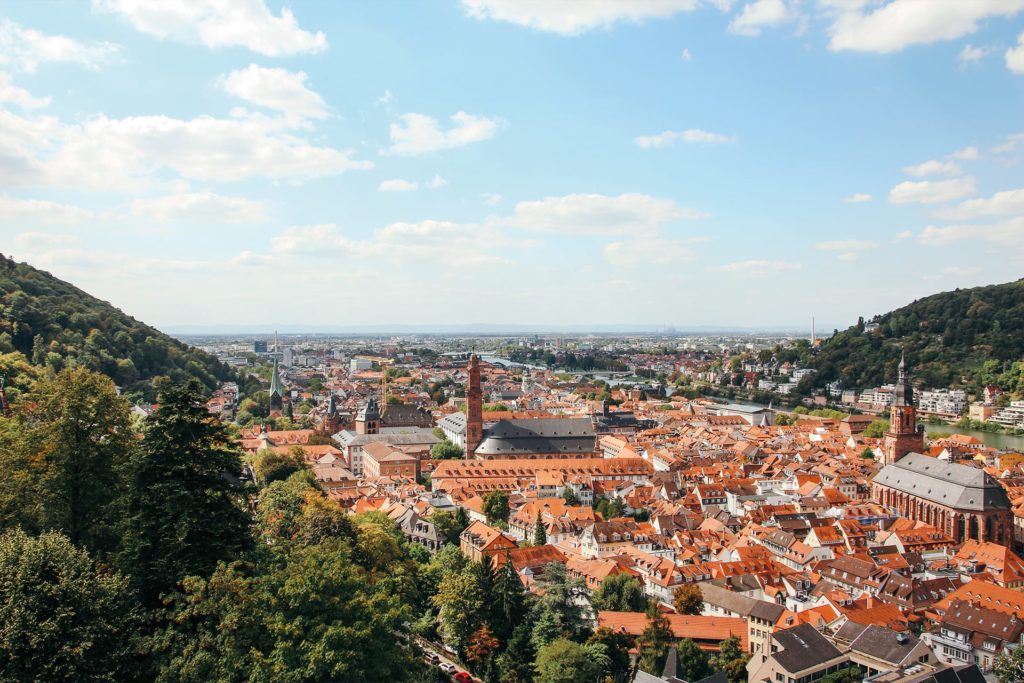 Push-and-pull for renewables

Heidelberg aims to be climate neutral and in 2019 was one of the first cities to declare a climate emergency. The municipal utility started cooperating with neighboring utilities to expand the city's solar PV and wind power supply (25 MW by 2030). In late 2020, the city passed a policy to provide financial support for distributed solar PV on all residential and commercial buildings and has passed a mandate requiring solar PV on all new buildings built on municipal plots (and requiring it on existing buildings in some neighborhoods).
Building alliances with your people and unusual partners
Depending on local resource, laws and regulations, and other location-specific variables, cities may not be able to install, purchase or procure renewable energy. Working with other partners has offered many municipal governments an alternative. To scale up renewables, city governments have built alliances with partners such as electric utilities, as well as private companies, universities, banks, or community energy projects.
Leveraging public-private partnerships to decarbonize transport

In Kampala, the transport sector is responsible for the highest share of energy demand and consists mostly of inefficient motorcycles and private cars running on fossil fuels. To reduce air pollution, noise and petrol demand, the Kampala Capital City Authority formed partnerships with start-ups. As a result, by 2020, more than 200 new and retrofitted electric motorcycles were introduced in the city (charged mostly from the hydropower-dominant grid).
City governments have also included their people in the design, ownership and management of energy systems, accounting for citizens/residents as both consumers and producers of renewable energy, as well as holders of rights that can shape the transition to renewables-based urban systems. In return, engaging citizens/residents at the local level increases both buy-in of the result and public awareness about renewables, and can accelerate the achievement of global climate and sustainable development goals.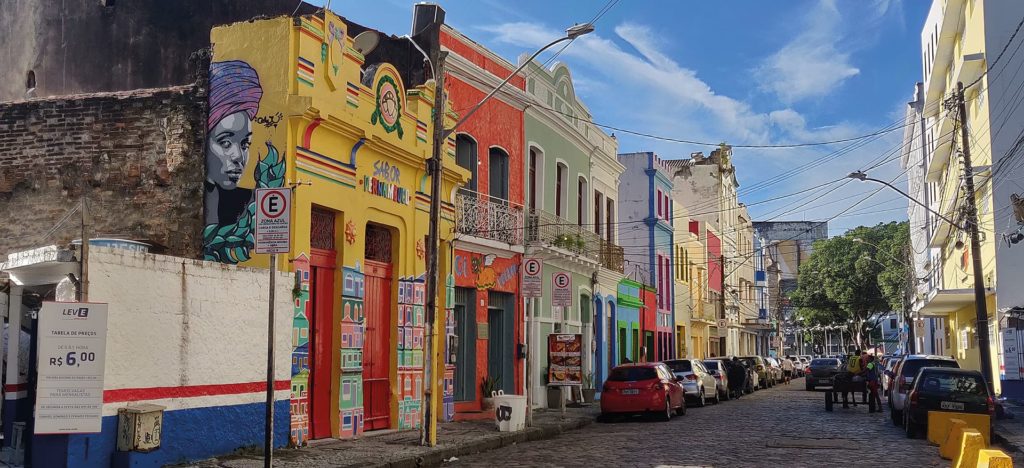 Engaging citizens/residents in energy planning

In response to its climate emergency declaration, Recife committed to becoming carbon neutral by 2050. As part of this plan, the city created a municipal forum to formulate climate change and sustainability policies. To promote greater citizen/resident participation, the city (in collaboration with the local energy company) holds public hearings where it presents future plans and results of projects in the region.
Getting the national government to follow your lead
City efforts have not gone unnoticed. On the contrary: they have also pushed national governments to take stronger climate actions. For instance, city and regional governments in Japan have been leading the way in committing to net-zero by 2050. This movement has been instrumental in pushing the national government to adopt a net-zero target in late 2020. Similarly, in the Republic of Korea, 226 local governments gathered to declare a climate emergency in mid-2020. Building on this momentum, the Korean Local Governments' Action Alliance for Carbon-Neutrality was launched. These bold actions were influential for the national governments announcement to achieve carbon neutrality by 2050.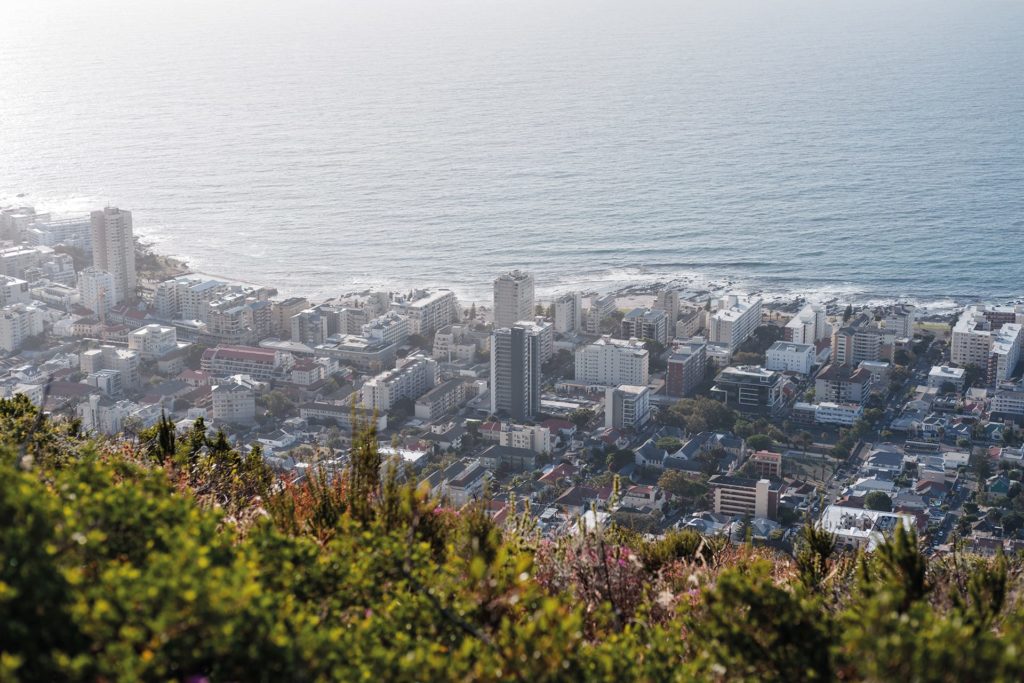 Pushing for a more active role in renewables

To provide more affordable and secure energy access while tackling rapid urbanization and associated energy poverty, Cape Town started a roll-out of solar PV and solar thermal to low-income communities. The city entered into a court challenge with the national government to expand its renewable electricity supply and purchase electricity from independent power producers (and not be confined to procuring coal-fired power). In a landmark decision in late 2020, the national government amended national regulations to enable municipal to develop their own generation projects. As a result, Cape Town has begun laying the foundations for supplying renewables at scale.
National governments must give cities more power to act
Even those cities that seem ready and willing to move forward run into obstacles. Many challenges remain, such as limited regulatory and financial powers at the city-level, including lack of municipal funds and access to external funds that can support local renewable energy generation projects. Urban energy and climate strategies must be regionally and nationally anchored. This will ensure policy coherence and support between national and sub-national frameworks and action. City governments also need to be empowered to understand their vital role in the energy transition. Globally, we can increase the level of ambition and progress in meeting climate and energy goals if national governments provide cities with the support well beyond creating better financial conditions. 
About REN21 and the Renewables in Cities Global Status Report
REN21 is the only global renewable energy community of actors from science, governments, NGOs and industry. We provide up-to-date and peer-reviewed facts, figures and analysis of global developments in technology, policies and markets. Our goal: enable decision-makers to make the shift to renewable energy happen – now.
The Renewables in Cities Global Status Report is an annual stock-take of the global transition to renewable energy at the city-level. The 2021 edition has been co-authored by over 330 experts and is endorsed by an Advisory Committee of 20 organizations including city networks. The complete data pack, a summary for policy-makers and the city case studies are also available for download here: www.ren21.net/reports/cities-global-status-report
Join Planet
REVOLVE today
We strive to communicate sustainability for a better world for the next generations.
Support us by becoming a member of REVOLVE Planet today.
Become a Member