Over $1 trillion is needed over the next 25 years to fix, replace, and expand drinking-, waste-, and storm-water systems in the United States of America. If done properly, such massive capital investments will set us on a more sustainable path for people, wildlife, and biodiversity. Doing it right means reframing the problem space for nature and the most vulnerable among us to be at the heart of future water resilience.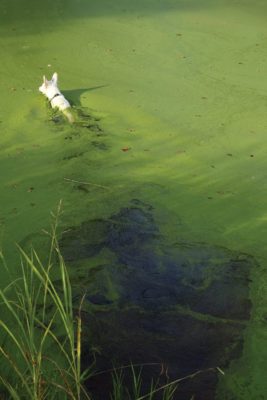 In the summer of 2018, residents in Oregon's capital city, Salem, got a cell phone alert stating: "Civil emergency. Prepare for action." People in Oregon State know that we are due for a major earthquake and thought the Big One was happening. It was a shock to many that the emergency alert was, instead, for drinking water. A toxic algae bloom had made city water undrinkable and continued to do so for nearly a month. But those who were not surprised were municipal water managers – in Salem, and in communities around Oregon. They all know it can happen to them too.
The Salem incident is a red flag for drinking water providers everywhere that rely on surface waters (streams, rivers, and lakes) which applies to hundreds of towns in Oregon alone. Toxic algae blooms are expected to increase in frequency and duration. As Oregonians witnessed over last summer, as temperatures rise, so do the threats. Longer summer droughts, more intense and prolonged fire seasons, less reliable winter snowpack, lower summer stream flows, and more frequent, extreme rain events – all are changing the face of water management and laying bare a fact we have ignored at our peril: our public health depends upon ecosystem health. But drinking water woes are also a social justice issue because the people most affected are the low income, children and the elderly.
Add to these challenges the need to upgrade aging infrastructure, which includes a vast backlog of deferred maintenance on pipes and treatment plants. In Oregon and our neighbor Washington State, more than $15 billion dollars is needed for drinking water infrastructure repairs and improvements over the next 20 years. In the same period, we also expect to add another 3-5 million residents – all of whom will need clean water.
Our public health depends upon ecosystem health.

How we approach water issues over the next decade will have far-reaching consequences. The worst thing we can do is to try to solve these problems using the same approaches that created them. It is time to invest in distributed and greener technologies along with our natural infrastructure of soils, trees, wetlands, rivers, and open spaces.
Invest in Nature: The Original Hydro-Engineer
Water infrastructure is a buzzword in every U.S. community as local governments and utilities struggle to meet current demands and plan for population growth, plus the uncertainties of a changing climate, and a host of new environmental threats such as "emerging contaminants, " including pharmaceuticals, pesticides, and endocrine disrupting compounds.
You may be interested in reading