Extreme weather reveals desperate need for preserving natural areas instead of more construction.
At the end of a seemingly endless summer heatwave in Spain, after widespread damage caused by dangerous wildfires spreading uncontrollably across the country, now more than ever we need to protect forests and invest in land conservation and restoration.
Putting forest protection first
There are rewilding and regenerative projects emerging in rural and urban areas that acknowledge the multiple benefits that forests provide for our health and for nature's biodiversity. However, in many places, the economic and social benefits of these projects are not quantified enough to put forest protection and conservation at the forefront of the public agenda, so many municipalities and cities continue to underestimate their value in current policies and plans.
La Canyada de Trilles, or the 'Pirate's Tower,' is a Mediterranean mountain of terraces highly valued for its natural and cultural character. Home to an abundance of trees such as Aleppo pine, stone, carob, figs, and other cultivated species such as olive and almond trees, it also provides habitat for local wildlife.
This area is also rich in renewable fuels that can be obtained from pine wood, almond shells, or olive pits, as well as medicinal compounds with varied uses from plants such as rosemary, thyme, or yarrow.
Images from the local fauna can be seen in this virtual photo exhibition. This kind of biodiversity is essential for the adaptation and resilience of the municipality and its surroundings, in the face of an increasingly severe climate, with prolonged droughts and intense rains.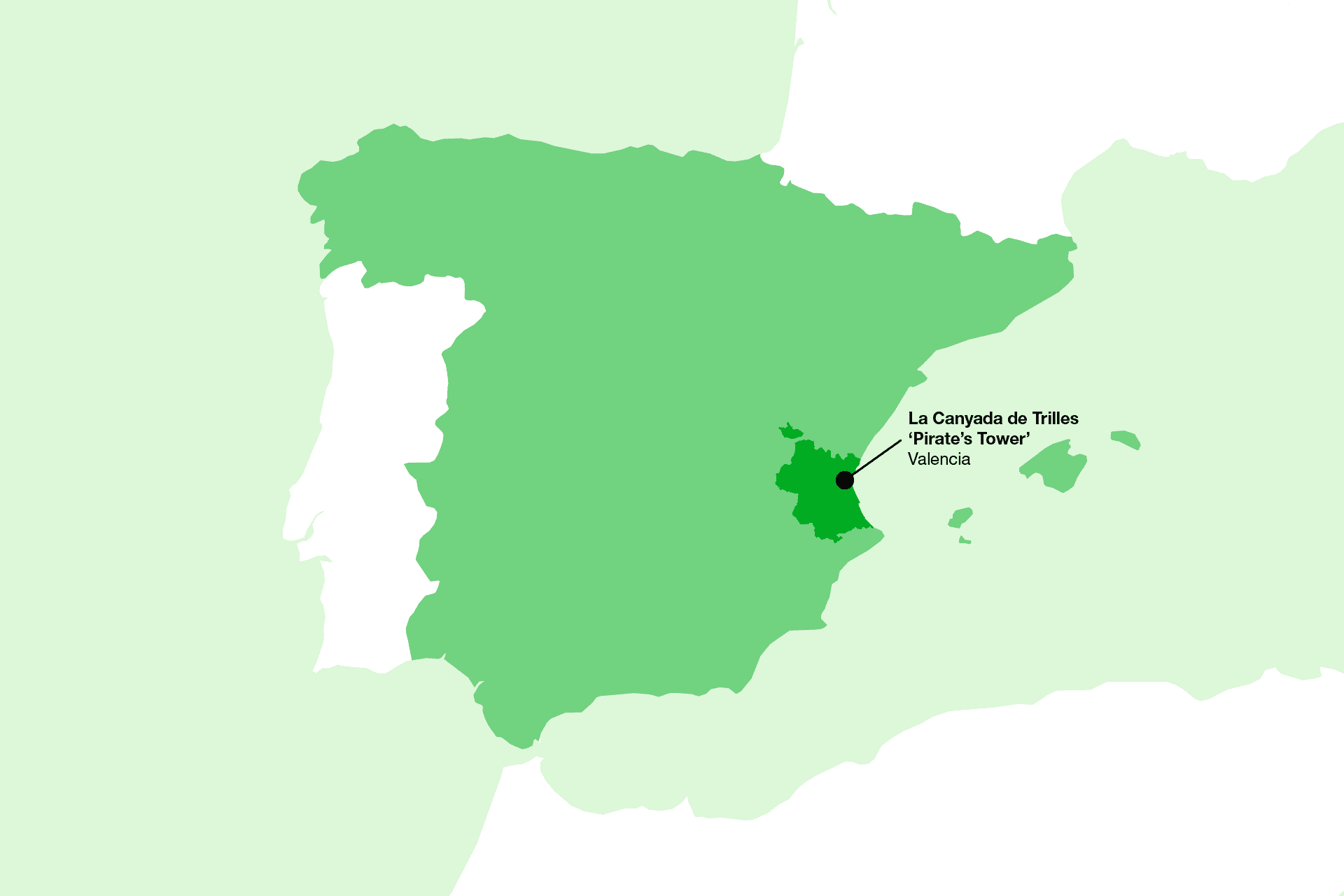 Economy prioritized over social and environmental benefits
Despite immense value, this area is threatened with being destroyed to build more than 450 new houses, in a municipality where there are already around 600 empty homes.
Erik Harley, a Barcelona artist, is leading the 'pormishuevismo' movement – an artistic movement that reviews real estate corruption in Spain – who sees the situation in 'The Pirate's Tower' and the imminent destruction of this natural area as a perfect example of the issues his movement is trying to raise.
According to Harley, the political system has become a social elevator and we are seeing its decline. In this sense he sees the political system as not being able to send hope or provide solutions to the challenges of our time, from the climate crisis to the humanitarian and economic crisis.
With the Pirate's Tower, the social and political conflict is due to the dispute over building versus protecting this natural and cultural environment. Economic interests are prioritized by the government declaring the so-called 'general interest' to go ahead with the PAI (Urban Adaptation Project) from 1990, but citizens are mobilizing efforts to fight against these actions. "For the fight to be effective we need to block and reject everything that tries to get past us," says Erik Harley.
Given the potential loss of this Mediterranean forest, more than 20% of the electorate of the local municipality has already expressed its resistance by signing a petition. The population is demanding to protect this forest and the surrounding mountains and proposes that the natural area become a peri-urban forest, a large green infrastructure for the city and, together with other similar places in neighboring municipalities, set up an agroforestry corridor between the Túria and the Carraixet as a green belt in the metropolitan area of Valencia.
Transformative plans for land regeneration
Mexican environmentalist Eugenio Gras points out in his book Cosecha de Agua y Tierra (The Harvest of Water and Land), sustainability means living within the regenerative capacity of the biosphere, which is about finding a balance between human consumption of natural resources and the natural recovery of biodiversity.
In the case of the Pirate's Tower, this theory can be applied by preserving important natural areas and presents an opportunity for local resilience with a transformative plan that is beneficial for the regeneration of the land and for the population.
Local municipal governance must align with the Spanish National Strategy for Green Infrastructure and Ecological Connectivity and Restoration that supports and promotes transformative projects to carry out adequate conservation and expansion of urban and peri-urban green infrastructure. In this way, we can optimize ecological, cultural, economic, and social services that benefit society, achieving an adequate balance between recreation for citizens and biodiversity protection.
This approach makes it possible to adopt and implement integrated policies and plans to promote inclusion, the efficient use of resources, climate change mitigation and adaptation, and resilience to incremental natural disasters, in line with SDG 11: "Make cities and human settlements inclusive, safe, resilient and sustainable".
It is about valuing the natural and socioeconomic benefits of urban ecosystems, to make the most of the opportunities they offer while still respecting the environment.
You can support the petition by contributing to the crowdfunding campaign here.
You may be interested in reading