Circularity and Social Inclusiveness for a Different Africa
21 December 2020 -
Circular
//
Interviews
REVOLVE Circular got together with the eight current members of the ACEN Executive Team: Susanne Karcher (South Africa), Sally-Anne Kasner (South Africa), Murielle Diaco (Cȏte d'Ivoire), Sarah O'Carroll (UK), Alex Lemille (France), Peter Desmond (UK), Chris Whyte (South Africa) and Gracia Munganga (DR Congo). The answers are an amalgamation of the team's responses.
ACEN is the African Circular Economy Network, a civil society network of Circular Economy thinkers and do-ers advocating for a more circular economy in Africa. ACEN is registered as a Non-Profit Company in South Africa and has around 100 representatives in over 30 African countries.
In summer 2020, ACEN published its new membership policy and regulations, now accepting corporate, media and civil society organizations as its members.
In 2021, ACEN is planning to organize a series of five online workshops for different geographical regions of Africa, culminating in "Africa Circular" as a pan-African summit and in-person event planned for 2022.
Let us talk about the early days of ACEN – when did you establish ACEN, and what were your main objectives at the time?
ACEN was established in July 2016 when a group of circular economy experts came together in Cape Town to discuss how to accelerate the circular transition in Africa. The main vision is still the same today: the association of circularity with social inclusiveness. We aim to build a restorative African economy that generates well-being and prosperity for all. To achieve this, we must utilize new forms of economic production and consumption which maintain and regenerate environmental resources. We have been inspired by sustainability visionaries from the Global North such as Gunter Pauli, Walter Stahel, and Ellen MacArthur as well as practices that have been seen across Africa for decades.
In 2016, the focus of circularity in the world was mainly around waste and resource management with promotion of renewable energies; the need for product innovation and re-design and securing resources to affect the required transitions was only just emerging.
It became clear to us that Africa, as the natural birth place of a 'sharing economy' model, represents largely countries that struggle to provide a decent living standard for their fast-growing populations. Africa imports many products such as packaging, electronics and others which are ideal for redesign; our assessment quickly highlighted that Africa has a very different angle altogether on what a circular economy could, and should, deliver for African people. Indeed, many unique African examples of circular living and consumption along with sustainable product innovation already exist. The main activities behind ACEN continue to be based around four pillars: share knowledge of circularity, train people to increase awareness, engage with academia to undertake research on the continent, and network with other organizations.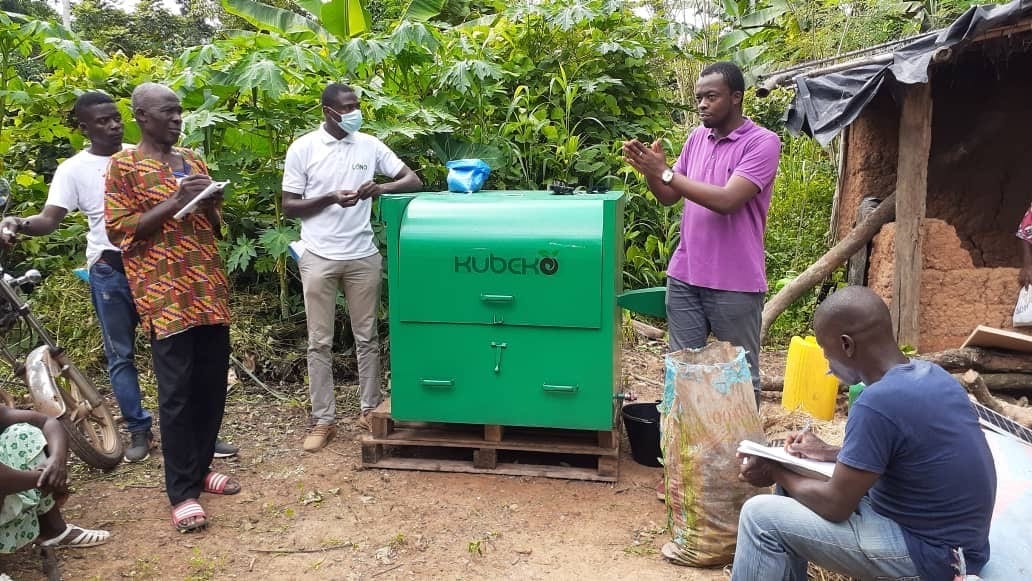 One might argue that much of Sub-Saharan Africa has always been or is already circular – would you agree? What are the most important needs – and the biggest opportunities – for African countries and businesses to consider and embrace circularity?
Indeed, we strongly believe Africa is one of the most 'ready-for-circularity' continents, mainly because its ecological footprint is still very low. The chances of moving into a circular business model are easier than in other continents where most infrastructures are already built without their next life cycles in mind. One of the biggest opportunities for Africa is remanufacturing and refurbishment. Imagine a network of remanufacturers in charge of restoring products back to their original state to send back to their markets or to resell to Europe and the Middle East. Remanufacturing hubs can be created in many African countries and would generate countless jobs.
Naturally where more people have less to share amongst themselves, this makes for innovation in efficient and resilient production, services, and related distribution systems. For centuries Africans had to be better attuned to the limits of nature's caring capacity, be it for farming, fishing, forestry or even clothing and shelter needs. It is the modern way of the western throw away/instant gratification lifestyle that has turned previously very sustainable African lifestyles into unsustainable ones. Single-use packaging is used and electronic equipment is sold without an end of life management solution. Unless producers take responsibility for these situations, this is a recipe for environmental disaster; it is also unfair to expect municipalities to be able to solve this issue while being under-resourced in every way.
Hence, Extended Producer Responsibility (EPR) policies are particularly critical in Africa so that product stewardship for international manufacturers does not end at the retail level. Traditional and functional distribution systems – for example for liquid goods such as milk, oil and shampoo – that do not require any packaging and are based on reuse get aggressively replaced and threaten Africans with 'linear lock-in' to a Western-style 'Take-Make-Waste' economy. This would mean they become dependent on products and packaging that cannot be consumed or disposed of in a resource preserving manner.
In a recent piece entitled "A Vision for a Circular-Africa" Alex Lemille wrote that "Africa has all the assets to succeed. It needs visionary leaders caring for everything and everyone." Do you already see any of these circularity leaders on the continent?
Within ACEN, we see such leaders through our collaboration with start-ups. There are many circular-ready start-ups being created across the continent that are restorative – (caring for everything) by focusing on soil regeneration and product maintenance. Or they are protective – (caring for everyone) by creating jobs in the new economy. There are also a few larger companies that have been involved in circular economy for several years, like Barloworld-Caterpillar in South Africa which is one of the largest remanufacturing plants in the world.
Through ACEN some real African circular economy pioneers have already come to the fore. Increasingly ACEN is asked to add research expertise and circular economy knowledge to international studies including academic papers exploring the existing circular economy potential in Africa and the sharing of knowledge to other continents and vice versa. ACEN increasingly involves its country representatives in circular economy research as they have deep insights into local dynamics and connections to initiatives on the ground that others outside Africa don't have – something that cannot simply be acquired through a desktop study.
How does ACEN as civil society network see the role of policy makers and an enabling framework for circularity in Africa? Are there countries which make circularity a priority and/or develop a national CE strategy?
Support from policy makers is key in the transition to a circular economy in Africa. Circularity aspects are only covered in some regulations and laws around the continent, albeit in a fragmented manner. At the present time there are no dedicated circular economy policies or focussed action plans for the transition from linear to circular in Africa. That said, some related policies make mention of terms like sustainability, green growth, job creation, poverty alleviation and climate change mitigation; however, the detail required to develop circular roadmaps for individual countries has yet to emerge. ACEN is a Strategic Partner of the African Circular Economy Alliance (ACEA) which is a growing network of African governments and we will be assisting with the development of circular policies and frameworks given our connections with entrepreneurs and private sector across the continent. Furthermore, over the next two years, we will particularly engage policy makers via a series of regional workshops in 2021 and the first-ever pan-African conference – Africa Circular – in 2022.
Let's wrap up with a few reflections on ACEN: What do you think has been your impact on the continent and beyond so far?
On the continent like minds tend to find each other and start working together – this has been our experience in the last four years, and we keep growing as a trusted network.
Beyond Africa ACEN is building a reputation as the go-to place and clearing house of information for anything related to the circular economy in the African space.
And what would you say are your biggest challenges?
Our biggest challenges? There are a few. First, all ACEN Country Representatives work on a pro-bono basis as we do not have sustainable funding support. What we have achieved so far is amazing without a formal Secretariat, but we now need to go to the next stage to achieve ACEN's full development potential. We are seeking sustainable funding from committed partners in Africa and Europe with the appropriate sustainability, circularity, and ethical credentials. Our second biggest challenge is our partnership and advocacy work for circularity.
We continue to work with policy makers and entrepreneurs to support the enabling conditions for circular practices to thrive in Africa and show the world what is happening – and what needs to happen more – to support people, the planet and prosperity on the continent. Further important challenges are related to our governance. The Executive Team and Chapter Leads need to be representative of the continent and their respective countries; inclusivity and participation are critical. We are making progress and we will see some important changes in early 2021. We aim to develop ACEN as a fully functioning non-profit company in South Africa, with strong links to members throughout Africa via country chapters.
Looking towards the future: what are your most important plans for 2021 and beyond?
Our next big step is to secure funding for "Africa Circular" and its preparation via five online workshops on circular practices which we aim to conduct in 2021. They will provide input to this main event planned for 2022 – this is a journey, not a destination, towards helping to create a just transition to a circular economy in Africa which will contribute to achieving the Sustainable Development Goals and mitigating the negative impacts of climate change.
Join Planet
REVOLVE today
We strive to communicate sustainability for a better world for the next generations.
Support us by becoming a member of REVOLVE Planet today.
Become a Member