Online event on 02 November, 11 am WAT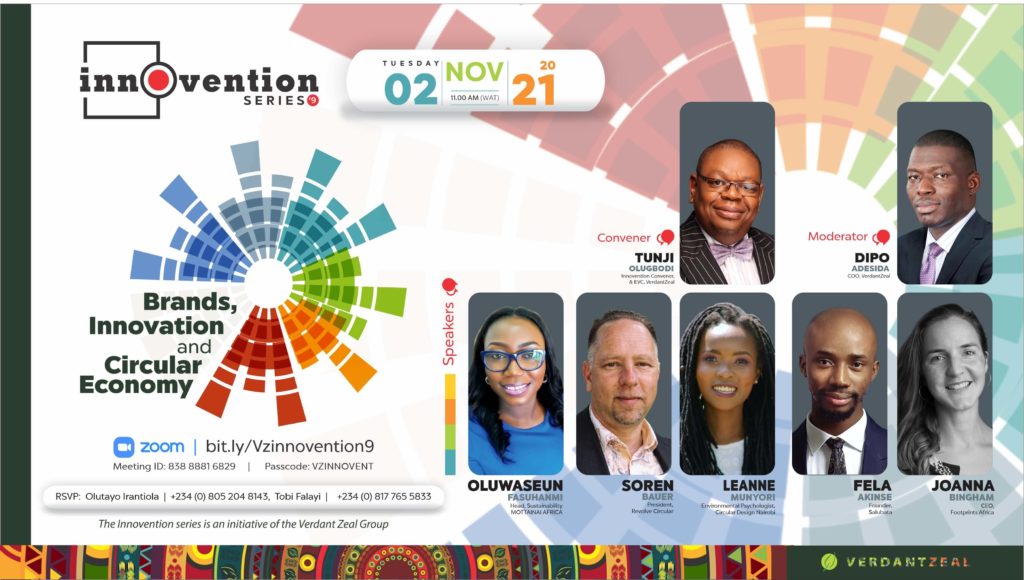 REVOLVE Circular was pleased to support the Ninth Annual Innovention Series event entitled "Brands, Innovation and the Circular Economy" organized by Lagos-based Verdant Zeal.
The Innovention Series is a Corporate Social Responsibility Event Series instituted in 2012 to examine the development of Africa, discuss the Nigerian project as well as pinpoint opportunities for development and growth within the continent. Representatives from both the public and private sectors have found it a strong route to engage in stimulating but pragmatic conversations and discourse that challenge that status quo.
What we discussed
As the Circular Economy discourse gains momentum globally, the 9th Innovention Series took part in the conversation of circularity. A continuously increasing number of industries and countries recognizes the urgent need to address resource constraints, (insufficient) waste management, environmental pollution and related challenges such as climate change, loss of biodiversity and others. The concept of a 'circular economy' aims to contribute to more resource efficiency, reduce waste, increase the retention of value and keep resources and materials in a loop.
As an umbrella concept, it is based on many various Schools of Thought including cradle-to-cradle, industrial ecology, biomimicry, the sharing economy and others. Due to increasing resource constraints, urbanization and demographic growth, the concept is gaining in popularity.
The event took a particular look at the corporate sector's role, how brands already use circular thinking and practices, and the concept's potential for innovation.
Program
Meet the panellists:
Sören Bauer, President, REVOLVE Circular

Sören Bauer gave a keynote speech addressing 4 circular stories, 4 barriers of circular economy, 4 types of brands and 4 customer perspectives.

Fela Akinse, Founder, Salubata
Joanna Bingham, CEO, Footprints Africa
Oluwaseun Fasuhanmi, Head Sustainability, Mottainai Africa
Leanne Munyori, Environmental psychologist, Circular Design Nairobi
Presentations: