Why City-dwellers Should Care About Forests
Trees in urban areas make people healthier and happier.
Trees shade city streets and parks raise property values. Trees provide cooling shade and help moderate run-off after storms. They're good for the mind and body. Urban forests help cleanse the air of pollutants, reducing the incidence of respiratory disease. And their presence makes you feel better: a study in Toronto found that having an additional 10 trees on a city block improved peoples' per- ceptions of their health by an amount com- parable to a $10,000 increase in income or being seven years younger.
Nearby forests provide urban-dwellers with water, energy, and protection from weather extremes.
Nearby forests provide many of the services that underpin everyday life in the world's cities. Many of those cities – including Bogota, New York, and Singapore – have invested in protecting forested watersheds to ensure dependable supplies of clean, fresh water for drinking and sanitation. Forested catchment areas also fill the reservoirs behind hydro-electric dams that power city lights.
Forests constitute up to 1/3 of the cost-effective actions to prevent catastrophic climate change
As climate change increases the frequency and severity of extreme weather events, the role of forests in attenuating the impacts of those events is increasingly apparent. Natural forest vegetation helps mitigate the landslides and flooding that often result from heavy rainfall. Restoring tropical mangrove forests could help buffer coastal cities, such as Mumbai, from storms and sea-level rise. And in alpine areas, trees on steep slopes can help mitigate avalanche risk after heavy snowfalls.
Far-away forests supply timber and protect the climate.
Cities do not depend just on trees in their immediate vicinity. Timber sourced from far-away forests has long been used for urban construction needs with rot-resistant tropical species favoured for outdoor uses such as pavements and park benches. A renaissance in the use of wood in urban architecture is underway, combining its inherent aesthetic and structural properties with new technologies to erect efficient, lowcarbon "mass timber" buildings more than 10 stories tall.
In addition, new science is revealing the role of forests in ensuring global well-being, including the sustainability of cities, through their roles in moderating the climate both locally and globally. Forests are now estimated to constitute up to 1/3 of the cost-effective actions to prevent catastrophic climate change, including reducing emissions from deforestation and enhancing carbon storage through reforestation and restoration. Moreover, the role of forests in regulating hydrological cycles is now understood to operate at the local watershed level and to play a role in generating rainfall across continents, thus ensuring the continued productivity of the world's agricultural systems.
Yet consumer choices still contribute to forest loss: the leading cause of tropical deforestation is conversion of forests to commercial agriculture to serve global commodity markets: forests yield to pasture for beef, cropland for soy, and plantations for palm oil and fast-growing timber.
What can cities do to protect faraway forests?
Many cities already recognize the value of urban and nearby forests, and are actively working to protect and enhance tree den- sity to reap their many benefits. In 2017, 17 Asian countries participated in a conference in Korea organized by the United Nations Food and Agriculture Organization (FAO), which produced an Action Plan for the development of urban and peri-urban forests in the region.
Awareness of what cities can do to protect faraway forests, however, is still embryonic, but urban leaders can do at least 3 things that would make a difference:
1. Enact forest-friendly procurement policies.
These would include avoiding the sourcing of products associated with deforestation, unless those products are independently certified as legally and sustainably produced. Providing markets for legal and sustainable timber can provide incentives for keeping forests as forests rather than converting them to other uses.
2. Provide a market for forest ecosystem services, especially carbon.
Many of the world's leading cities have made commitments to achieve carbon neutrality by mid-century or before. Most emission reductions can and should be achieved by reducing fossil fuel use in the energy and transport sectors, but the purchase of forest carbon offsets from tropical jurisdictions could be the icing on the cake.
3. Raise awareness.
Most urban-dwellers are unaware how much their well-being depends on goods and services generated by faraway forests, and what they can do to promote forest conservation. Urban environmental education can help citizens make more forest-friendly choices with their spending and voting power.
A renaissance in the use of wood in urban architecture is underway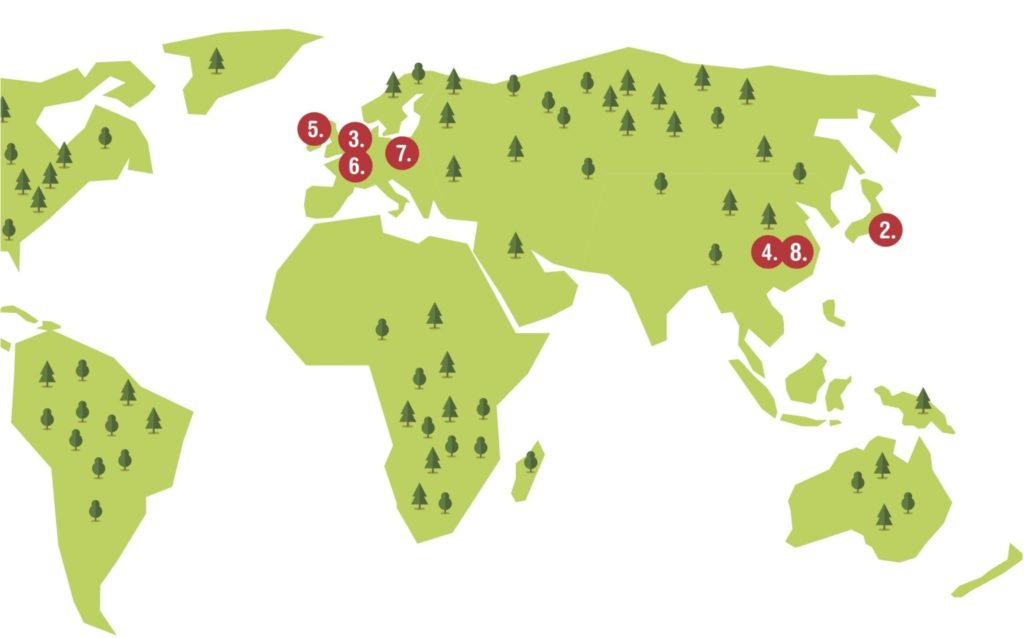 1. Global
A new study by Nature underlines the importance of intact forests for mitigating climate change, maintaining water sup- plies, safeguarding biodiversity and protecting human health. Intact forests are large areas of connected habitat that are free from human disturbance. Unfortunately, these areas are becoming few and far between, often because of intensive agriculture, logging and road building. The research warns that global policies aimed at reducing deforestation are not doing enough to preserve such forests.
"As vital carbon sinks and habitats for mil- lions of people and imperiled wildlife, it is well known that forest protection is essential for any environmental solution – yet not all forests are equal," said James Watson of the Wildlife Conservation Society, which led the research. He added that: "forest conservation must be prioritized based on their relative values – and Earth's remaining intact forests are the crown jewels, ones that global climate and biodiver- sity policies must emphasize".
2. Japan
The value of trees for our health and well-being is increasingly being touted by nature lovers. A book to be published in April, however, suggests that trees really do have healing powers. Forest Bathing by physician Qing Li, chairman of the Japanese Society for Forest Medicine, explains how trees release anti-microbial essential oils, called phyton- cides, that protect them from germs and have a host of health benefits for people. According to Qing Li, the oils boost mood and immune system function; reduce blood pressure, heart rate, stress, anxiety and confusion; improve sleep and creativity; and may even help fight cancer and depression.
3. Brussels, Belgium
The Forest City Project is returning tord Brussels for a 3 edition with a new forum & exhibition on 21 March (UN International Day of Forests) bringing together forest specialists, urban planners, and international associations and agencies. The exhibition highlights the latest and tallest buildings made of timber in juxtaposition with the beauty of forests and the urgent need to address deforestation.
4. China
China has announced it will plant forests covering an area roughly the size of Ireland this year to increase forest coverage to 23% of its total landmass by the end of 2020. Tree-planting has been cited by the government as an official part of its efforts to improve the environment and tackle climate change.
5. United Kingdom
Northern England is set to get a whole lot greener, according to government plans to plant a forest spanning the country from Liverpool on the west coast to the city of Hull on the east. If realized, the forest will contain 50 million new trees and repopulate one of the least wooded parts of the country. The government now needs to raise the funds to make this a reality — so far it has pledged just £5.7 million (€6.4 million) of the £500 million (€564 million) needed for the project.
6. Paris, France
Paris has decided that trees could be Pollution and masks are the images a key ally in the fight against air pollution, revealing plans to plant 1 million new trees at Pierrelaye-Bessancourt – about 20 kilometers north-west of France's capital. The project could create a forest x5 the size of New York's Central Park and could turn the current wasteland into a green lung with hiking trails and conservation areas.
7. Poland
One of Europe's last primeval wood- lands is under scrutiny after the European Court of Justice ruled that Poland broke international law by drastically increasing logging in the Białowiez ̇a Forest.
In 2016, Poland announced plans to triple the amount of logging allowed in the forest, causing an uproar given its status as a United Nations World Heritage site. The forest hosts some of the largest and oldest trees in Europe and is home to the largest colony of European bison and other species that are rare or even extinct elsewhere.
Agata Szafraniuk, a lawyer from ClientEarth that has helped lead the opposition to the logging, said she was "not surprised" by the verdict. "The increased logging in the Białowiez ̇ a Forest breaches EU nature laws because Polish authorities failed to adequately protect rare and precious species in this ancient forest," she explained. "They even failed to assess what impact the logging could have on the unique nature of the forest, which is also required by the law."
Poland's environment minister said the government would study the opinion and respect the court's final ruling, which will be published in the coming weeks.
8. China
Pollution and masks are the images that tend to come to mind when thinking of China's cities, but Stefano Boeri, an Italian architect, has a rather different view, imagining the future of urban China full of trees and plants. He wants to create entire "forest cities" populated by "100 or 200 buildings of different sizes, all with trees and plants on the facades." He believes that "by 2020 we could imagine having the first forest city in China."
See Also