The European woodworking industries, as pioneers in fighting illegal logging, offer critical perspectives on combatting deforestation driven by imported commodities.
Forests are our best allies in mitigating climate change by removing carbon dioxide from the atmosphere: together with oceans, they act as reservoirs, storing carbon for decades and even centuries in trees and long-lived wood products. It is little wonder that deforestation is a key environmental concern worldwide, being a very serious driver of CO2 emissions and habitat loss. As stated by Commission President Von Der Leyen in the recent "One Planet" summit on biodiversity, the EU is firm in the commitment to ensure that the single market does not drive deforestation in other parts of the world via the import of deforestation-linked commodities.
"Primary processing industries in the EU…source more than 95% of their wood raw materials in Europe, where adequate legislation on ensuring sustainable forest management is in place."
One has to remember that the primary driver of deforestation is land use change: as populations grow and economies develop, forest land is being cleared for conversion to food agriculture and other crops, mining activities, urban and infrastructure development (source: FAO). Timber and timber products from sustainably managed forests are not linked to global deforestation; on the contrary, deforestation prevents the future availability of wood material, whereas forests sustainably managed and with long-term economic value stay as forests.
The European Woodworking Industries have been pioneers in fighting illegal logging and improving the legality of the production and sale of sustainable timber.
Primary processing industries in the EU – such as the sawmill industry – source more than 95% of their wood raw materials in Europe, where adequate legislation on ensuring sustainable forest management is in place. According to the data collected by Forest Europe, the European forest area increased by 9% over the past 30 years and, with 227 million hectares, now covers more than one-third of Europe's land surface. The EU sawmill Industry complies with and enforces the requirements imposed by the European Union Timber Regulation (EUTR). Most of the EU sawmills supply customers with either PEFC or FSC controlled material. Additionally, the European Sawmill industries are investing in the best technologies available on the market to guarantee the traceability of purchased logs. Wood traceability is a computer-based system that ensures that every log (and sawn wood derived from it) can be promptly identified. Traceability is beneficial both for companies and the consumers, providing better quality for wood products. Using technology to trace the movement of timber guarantees transparency and legality and ensures that the supply chain data is 100% accurate from the forest to the sawmill plant.
The EU Timber Regulation (EUTR) ensures that the less than 5% of the timber entering the EU market sourced from outside the EU has been harvested and traded in compliance with the laws of the producing country. To meet EUTR requirements, EU companies must subject suppliers to legality assurance due diligence, so they can demonstrate that products are legally sourced, with appropriate documented evidence and means of tracking along the supply chain. Where there is uncertainty, they must undertake further illegality risk mitigation, which can involve on-the-ground inspection of suppliers.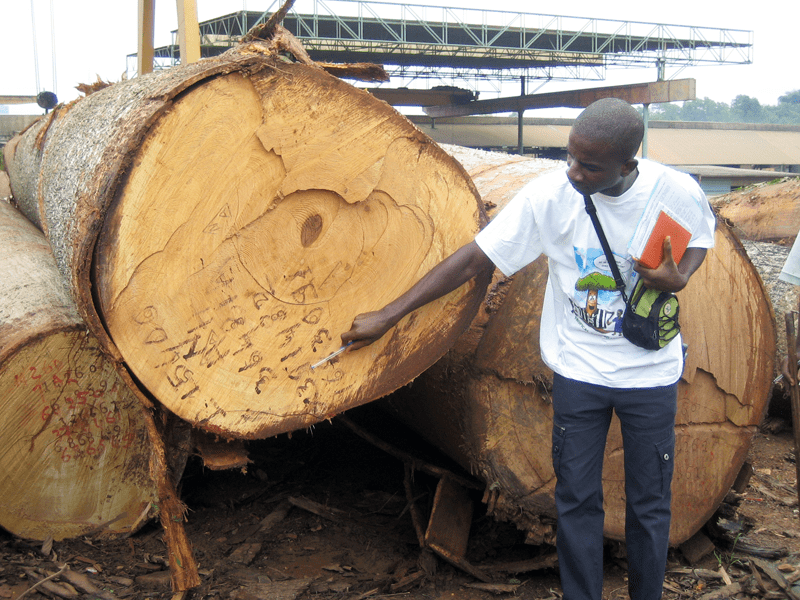 The European timber traders also support supply-side measures aimed at improving forest governance in producing countries, such as FLEGT. This involves supplier countries entering a Voluntary Partnership Agreement (VPA) with the EU, which binds them to establish a national timber legality assurance system, supported by forest products traceability, independent auditing, monitoring and licensing frameworks. They must also, where necessary, implement forest governance reform and ensure that a broad spectrum of stakeholders, including businesses, local communities and NGOs, are consulted and involved in forest sector decision making.
Indonesia was the first country to fully implement its VPA and started FLEGT licensing EU exports in 2016, but an additional 15 are engaged with the initiative, accounting for 76% of the total tropical wood imports in the EU. Six countries are currently implementing the VPA Agreement (Cameroon, Central African Republic, Republic of the Congo, Ghana, Liberia and Viet Nam), and nine are in the negotiation phase. Increasingly, a FLEGT VPA is also being seen as laying the groundwork for sustainability certification, having a range of elements in common with the principles and criteria of the independent certification schemes, such as forest products traceability, forest governance reform, and insistence on social inclusion and welfare assurances.
More can be done to accelerate such process, including an increased recognition of FLEGT-licensed timber on the EU market, along with a better implantation of EU Timber Regulation and a more consistent enforcement of the EUTR across Europe; but overall, the EU woodworking industry offers a positive example and a potential model for new measures aiming to support the trade of deforestation-free commodities.
You may be interested in reading