Connecting green and blue growth for climate change adaptation and mitigation.
The Mediterranean is a climate change hotspot. Higher temperatures, population increase, pollution, unsustainable land, sea use practices, and non-indigenous species are threatening life in the Mediterranean as we know it. There is a need to "adapt to inevitable changes, mitigate change drivers and increase resilience", as highlighted in the First Mediterranean Assessment Report developed by MedEEC.
The main message of COP 27 was in line with that call to action from the Mediterranean report, the agreement of a new "Loss and Damage" fund for vulnerable countries, approved after long and intense negotiations. But beyond the high-level discussions and agreements many countries, projects, and initiatives were sharing what they were doing to mitigate climate change. Real actions by real people, taking place on the ground.
One of these actors, the Interreg MED Green and Blue Communities, have been working for six years in the region with a wide variety of stakeholders – ranging from local authorities to researchers or citizens – to work on climate change mitigation and adaptation. At COP27, Representatives from these two communities shared their work and the gaps that need to be filled to keep moving towards a more powerful green and blue economy in the region.
What is a green economy?
A green economy is defined as a low-carbon, resource-efficient and socially inclusive economic model. The UN Environment Programme (UNEP) describes that "in a green economy, growth in employment and income is driven by public and private investment into such economic activities, infrastructure and assets that allow reduced carbon emissions and pollution, enhanced energy and resource efficiency, and prevention of the loss of biodiversity and ecosystem services."
The Interreg MED Green Growth Community (GGC) has been working in this direction. It has focused its efforts on supporting local and regional authorities and small and medium enterprises (SMEs) adopting circular economy practices. Representatives from the community explained how they have been working across the Euromediterranean countries to make this inclusive economic model tangible on the ground.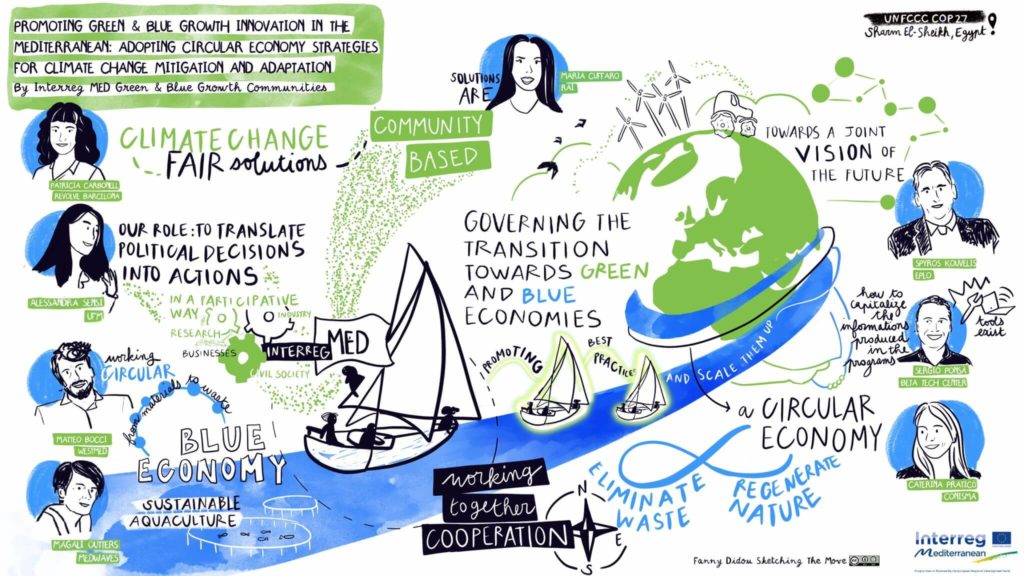 Sergio Ponsà, Director of the BETA Tech Center of the University of Vic and Project Coordinator of the Interreg MED Green Growth Community, emphasized the need to have all the stakeholders involved in the design and implementation of new policies, considering the opinions and objectives of all stakeholders to have a fair transition to climate change adaptation.
How are green and blue economies interlinked?
Along with the GGC, the Interreg MED Blue Growth Community (BGC) also presented its know-how after six years of testing and implementing solutions to advance toward a blue economy in the Mediterranean. The Blue Growth Community members Matteo Bocci, representative of the WestMED Assistance Mechanism, and Magali Outters, Team Leader Policy Area at MedWaves (the UNEP/MAP Regional Activity Centre for SCP) presented aquaculture as a growing sector in the Mediterranean that opens many opportunities for low environmental-impact food production.
Both communities underlined the deep links between green and blue economies. Both aim for a resource-efficient model. The blue economy, as per its definition, focuses on preserving the health of the ocean ecosystem making sustainable use of ocean resources for economic growth, improved livelihoods, and jobs. Both economic systems are targeting the same goal, engaging a wide variety of sectors, from transport to tourism to manufacturing, but both with the final goal of a transition towards a circular economy.
According to Outters, "the circular economy in the Mediterranean is a reality". However, as she pointed out, there is a need to make changes at a policy level and increase the financing available.
Policy and financing are two cornerstones for climate change adaptation. Policies are essential to "translate political declarations into action", as underlined by Alessandra Sensi, Head of Sector Environment and Green and Blue Economy at Union for the Mediterranean.
"Policymakers play an essential role because they are responsible for setting the scene, for setting the right framework to make everything happen in the right direction", Ponsà affirmed. But policies for climate adaptation and environmental resilience need to take into account concerns such as justice, equity, poverty alleviation, social inclusion, and redistribution. This is why continued research is so important, and keeping funding streams open and available to facilitate it.
The Interreg Euro-MED programme will keep funding regional and local cooperation in research, innovation, and knowledge transfer, with a new group of projects starting in January 2022. The Green and Blue Growth communities will leverage their lessons learned during the past six years to work in the Community4Innovation project as part of one of the programme missions on strengthening an innovative sustainable economy. Both communities will work together to keep boosting the transition to a circular and sustainable economy and increasing the resilience of local communities to the impacts of climate change.
Join Planet
REVOLVE today
We strive to communicate sustainability for a better world for the next generations.
Support us by becoming a member of REVOLVE Planet today.
Become a Member