Interview with Scott Francisco, founder of Pilot Projects
What does 'Pilot-Projects' actually do?
We co-create a better world. We help our partners (governments, corporations and non-profits like conservation organizations and neighborhood associations) solve complex systems problems that involve culture, markets, policy and physical infrastructure. We believe culture is a powerful, significant force that must be paired with the design of physical infrastructure to produce meaningful outcomes. This is the basis of all our projects and services which include strategic facilitation, consulting and infrastructure design.
A "pilot project" is something that gets "made", carefully and relatively quickly, in order to unlock much bigger systemic problems. This allows us to test an idea, understand a system, before applying solutions on a larger scale.  We are designers who work on "wicked problems" – challenges that usually fall outside the mandate of conventional design, like de/reforestation, drinking water, the productivity of organizations and people in their workplace, even new forms of education.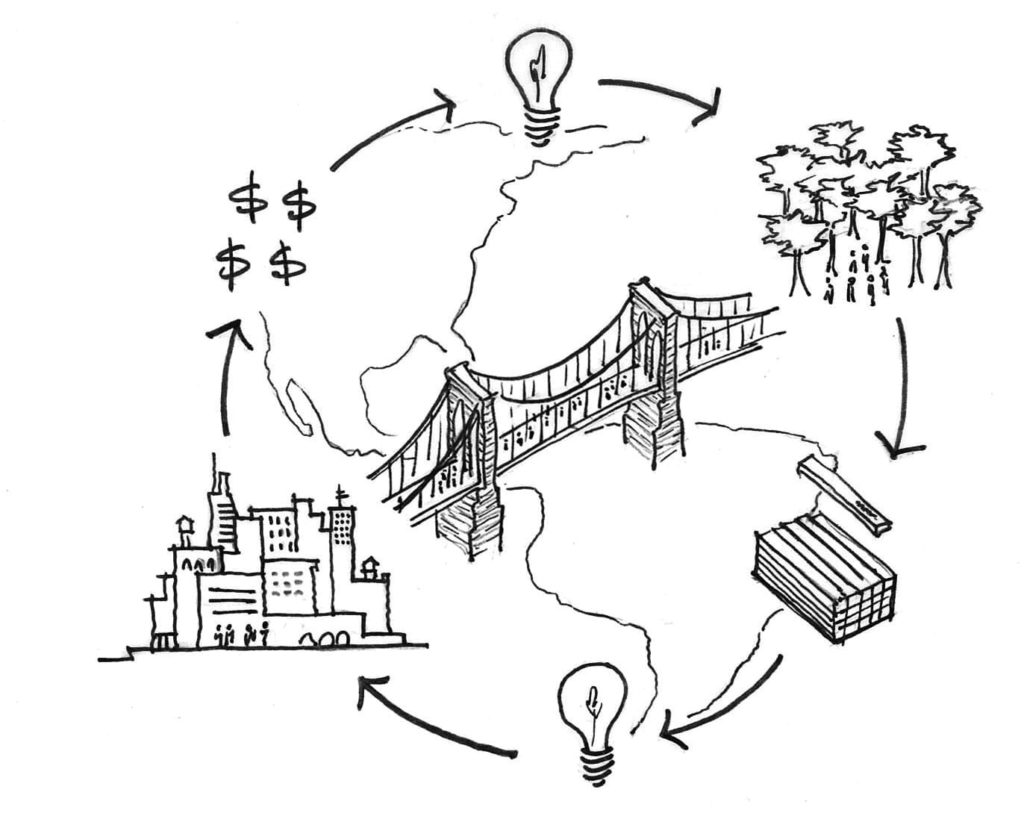 Why is the Brooklyn Bridge project so symbolic?
Brooklyn Bridge Forest links a global city (New York City) and a global forest (Maya Biosphere Reserve), using local and global systems (culture and infrastructure) to unlock new thinking about the relationships between them. The project proposes that the historic wood planks to be replaced on the iconic Brooklyn Bridge Promenade come from a new source: a specific tropical forest that is managed and conserved by a community who supply the wood to New York City. Our aim is to connect this forest community with NYC in a balanced relationship in terms of cultural impacts, financial benefits, ecological impacts and awareness. The project is intended to be visible globally and to excite urban citizens and forest-dependent communities around the world about the possibilities of working together. We are focused on engaging youth, both in cities and forests, and helping them imagine a new global culture that supports urban and rural livelihoods with the conservation of the natural environment at its heart.
C40 F40 is an expansion of the Brooklyn Bridge Forest concept to strengthen the vital connection between cities and forests. The cultural significance of global cities is growing in proportion to the power of nations and international agreements to regulate change. We believe that powerful cities can take direct responsibility for the natural environment on which they depend, in particular for forests that are critical to maintaining a healthy climate. C40 F40 proposes that each global city form a relationship with one globally significant forest, based on mutual benefits, and find creative ways to help sustain each other. This may include the exchange of products like wood, food, plants and medicines, as well as finances, research, tourism and education. The relationships would be developed to have direct benefits to urban citizens, forest residents and to the global climate and biosphere. This project is evolved to become the City Forest Alliance.
How can cities combat climate change better?
Cities are the places where the world's culture, ideas, language and policy are shaped. Cities also represent the majority of global consumption of energy, goods and services. But cities still see themselves as independent entities and tend to shape their policies to protect their own self/local interests – as if their decisions do not impact the rest of the world. Nothing could be further from the truth. What happens in these cities does not stay in the city! If cities want to make a dent in addressing climate change, they must think radically beyond their borders – both their physical borders and their more conceptual borders. They need to apply their creativity and cultural influence to every aspect of their global impact. Cities have the power to sculpt their procurement strategies, their policies, their media and most importantly, their identity. What if being a New Yorker meant not using plastic water bottles? That fact would transcend local regulation and have impacts on the whole world.
What would a city-forest alliance look like?
Imagine if the top 40 (or top 100) cities of the world all agreed to engage directly with the question of conserving global forests, each committing to a relationship with an important forest, perhaps nearby, but mostly far away. This is important because global cities consume globally – that is a reality that must always be kept in mind! Imagine if each of these cities set out to test and model a relationship that was mutually beneficial, and specific to each forest, each city, and the people in each. We would have 100 prototypes to work with, to visit, to see the impacts. None of these would be perfect, but that's fine. We need to experiment and get people interested. We need to innovate together. Take responsibility. We need 
---
See Also