Climate Change Reporting: A Challenging Task for Journalists
8 June 2021 -
Ecosystems
//
Features
64% of the participants in the Innovate4Climate (I4C) Journalists Workshop had encountered unreliable coverage of climate change in their country or region – a challenge that correlates with a lack of access to climate-related knowledge sources and experts, according to the attendees. The workshop aimed to address this, collecting knowledge from experts and specialized journalists to give the participating journalists the tools and resources to communicate about climate change more effectively.
Building on the success of the 2019 edition, the World Bank Group – in partnership with REVOLVE – organized the second event of the I4C Media Fellowship on 24th May 2021, within the framework of this year's Innovate4Climate, one day before the Conference's official launch. The four-hour workshop brought together journalists from across the world, with a special focus on developing countries. Divided into three sessions, the event improved participants' understanding of how to tailor climate change stories to integrate the communication of environmental, human and socioeconomic consequences, and financial mechanisms.
The first session gave an overview of what it takes to report on climate change today. Marina Aizen – Argentinian journalist and co-founder of Periodistas por el Planeta, and Patrick Kihara – Kenyan storyteller, writer, and former BBC journalist, explained the evolution of reporting on climate change over the last few decades, and what is needed to ensure reliable reporting on the issue today. Both speakers highlighted the lack of media coverage given to climate change-related stories, and the urgent need to close that gap.
"We need to bridge the gap between journalists' knowledge, the resources they have available, and the need to report on climate change", stated Kihara. According to Aizen, this shift is finally taking place in the newsroom after years of editors neglecting the complexity and importance of climate change: "Now that we see the growing importance of climate change in geopolitics, [editors] are recognizing its importance and making efforts to catch up".
Complimenting Aizen and Kihara in the first session, Madhur Singh – Indian data journalist and managing editor of Indiaspend, and Daniela Chiaretti – Brazilian environment reporter for Valor Econômico, explained how to find and understand scientific data whilst ensuring a human connection in journalism. According to Singh, "Even if you have a reliable dataset, you must get on the street and talk to people." The data and evidence is essential, but writing stories that catch the audience's attention and change their perspective is key in climate reporting. Chiaretti's suggestion was to specialize on a certain aspect of climate change, because "it is a wide issue affecting all aspects of our lives"; this was reinforced by Kihara, whose closing recommendation was to "always make the people on the street relate to your story."
The workshop's second session highlighted examples of innovative financial mechanisms that support climate change solutions to benefit people and planet. Daniel James Besley, Climate Change Specialist at the World Bank Group, introduced the attendees to the basic concepts of carbon pricing and "how it can yield numerous benefits to society beyond climate change mitigation."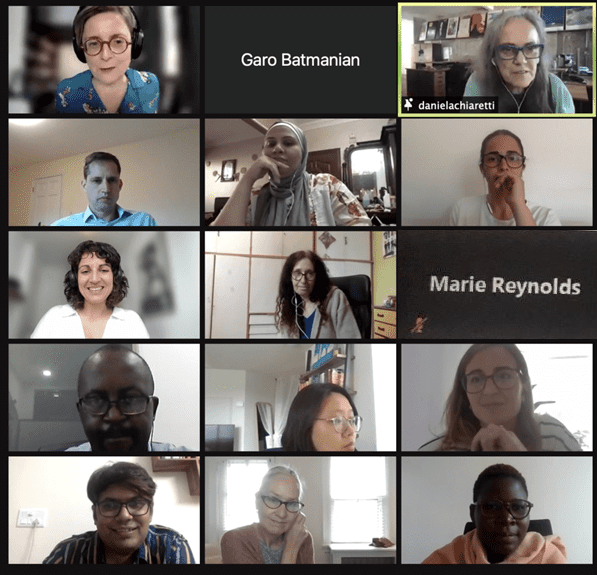 Discussions on innovative financial mechanisms were followed by debate on sustainable landscape management and livelihoods. Garo Batmanian, Lead Environmental Specialist for Environment, Natural Resources and Blue Economy Global Practice at the World Bank Group, shared his experiences that highlight the urgency of protecting forests and biodiversity as steps toward achieving global climate change targets: "We need to look at the forests from a wider land use perspective to understand how to preserve them." Batmanian illustrated his point by citing that 75 billion tons of fertile soil is lost every year due to land degradation, costing the world an estimated $10.6 trillion per year.
The workshop's third and final session was a meet up session with World Bank Group representatives: Stephane Hallegatte (Lead Economist, Climate Change), Bernice Van Bronkhorst (Global Director, Climate Change), and Wendy Hughes (Practice Manager, Carbon Markets and Innovation). In this session, the participating journalists had the chance to engage and question the World Bank Group representatives, ahead of the official launch of the I4C conference.
Closing his intervention, Batmanian affirmed his conviction that 2021 is a once-in-a-generation opportunity to rebalance human and natural capital. World Environment Day on 5th June 2021 marks the launch of the UN Decade on Ecosystem Restoration (2021-2030) – an initiative that aims to support the protection and restoration of global biodiversity, and both terrestrial and marine ecosystems across the world. According to the Initiative's objectives, "Ecosystem restoration can help to end poverty, combat climate change and prevent a mass extinction. It will only succeed if everyone plays a part".
At the end of the I4C Journalists Workshop, participants agreed on the importance of the global reporting community in ensuring that these initiatives – and climate change action as a whole – reach their goals.
In partnership with
About the I4C Media Fellowship
I4C offers a media fellowship for select journalists from around the world to provide media training on climate reporting and content production aligned with I4C themes. This provides an opportunity for journalists to received related training and to attend sessions of their interest and develop content for news, feature stories and more. This year's program was sponsored by the Green Bond Transparency Platform from the Inter-American Development Dank (IDB).
Join Planet
REVOLVE today
We strive to communicate sustainability for a better world for the next generations.
Support us by becoming a member of REVOLVE Planet today.
Become a Member