City of Trees: Growing More Trees for Greater Manchester
18 April 2018 -
Ecosystems
//
Features
The ground-breaking movement aims to plant three million trees; one for every man, woman and child living in Greater Manchester, UK.
Launched in November 2015, the City of Trees initiative aims to transform 2,000 hectares of currently under-used, unloved woodland back into use for the community in order to connect people to nature.
The movement was instigated by the Community Forest Trust, which has a rich history of over 25 years greening Greater Manchester, and The Oglesby Charitable Trust. City of Trees aims to gain the support of businesses, organizations and community groups in helping to reach the ambitious targets. To date, the movement has planted over 230,000 trees and brought over 200 hectares of woodland back into management.
Peter Stringer, Technical & Green Infrastructure (GI) Planning Manager of the City of Trees' team, says: "The benefits of trees are well documented; they create healthier, happier communities, tackle climate change, reconnect our children to the natural world, and provide essential habitats for wildlife."
The movement aims to engage a whole range of organizations including community groups, businesses, social housing providers, local authorities as well as public sector bodies to help achieve its ambitious goals.
As well as engaging other organizations, the charity wants the public to be part of the initiative and since its launch has connected with over 10,000 people face-to-face through events, walking activities and planting schemes. To help engage the public, City of Trees runs monthly volunteering sessions across Greater Manchester, where anyone can come along to plant a tree, learn how to manage a woodland and even bash some balsam!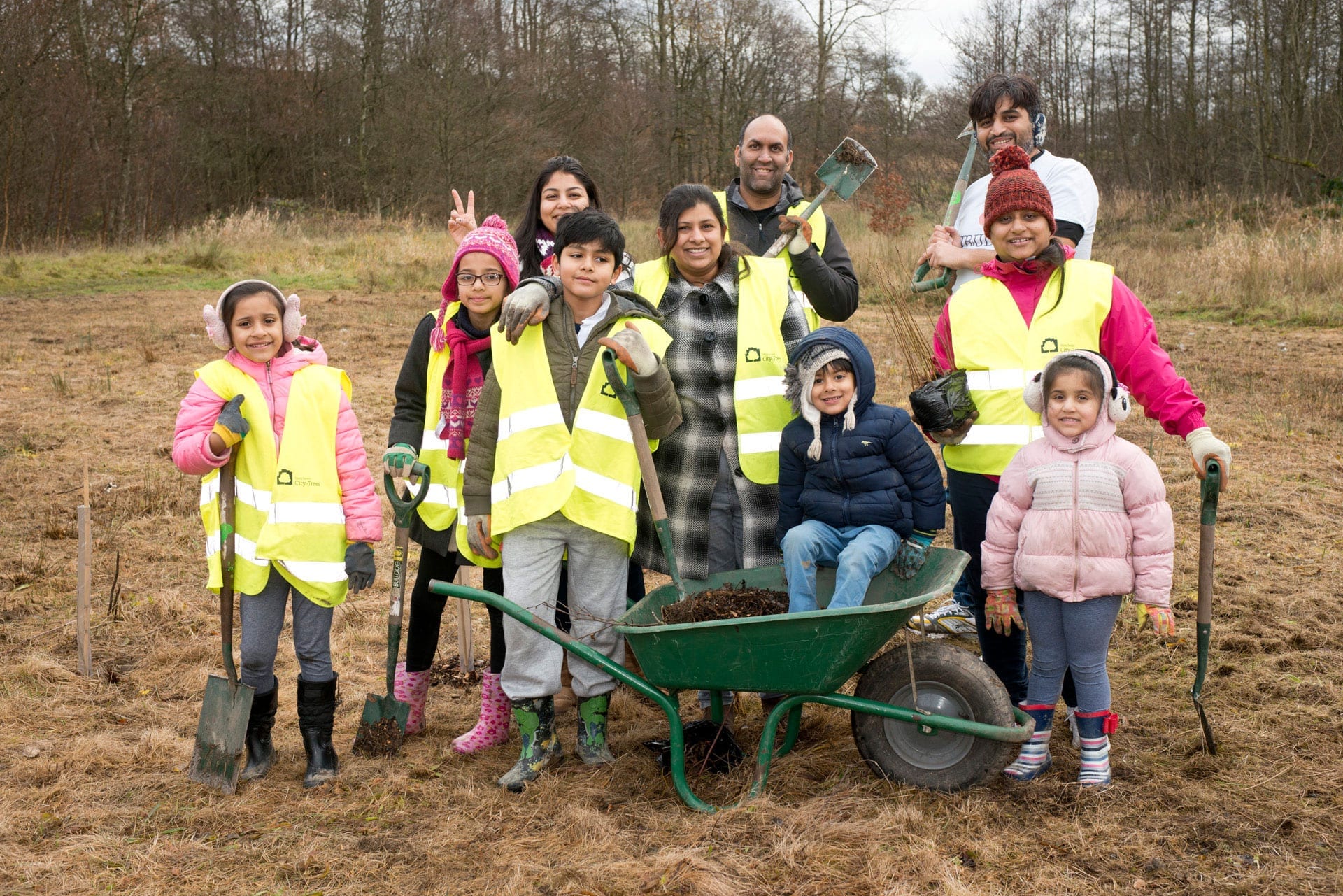 Peter Stringer comments "By getting people out and about in the great outdoors we hope to show how important trees, woods and wildlife are." The organization welcomes people who want to use employee volunteering days to get involved in practical projects on the ground, as well as students and anyone with a passion to help green Greater Manchester.
City of Trees also works with school children and aims to connect them with the nature on their doorstep by creating outdoor play areas, involving pupils in tree planting and linking classroom activities to the natural world.
Through the 'Trees for Learning' programme, children will be planting 60,000 trees with around 350 Greater Manchester primary schools. The initiative is part of the Department for Environment, Food and Rural Affairs (DEFRA)-backed project to plant 1million trees with primary schools across the UK by 2020.
Having worked with thousands school children to date, the charity advocates the benefits of outdoor education. Peter Stringer claims that "there is a wealth of evidence showing that nature-based learning supports significant improvements in social studies, science, language, arts and maths. We feel it's especially important to work with children around trees and woods to ensure they preserve and protect them for future generations."
By getting people out and about in the great outdoors we hope to show how important trees, woods and wildlife are.

Peter Stringer
The team behind City of Trees have been planting trees across Greater Manchester and work with their partners and landowners to identify land for tree planting. Stringer explains that "it could be extending existing woodland and building-up biodiversity or linking our woods and green space. We also plant totally new areas of woodland."
City of Trees successes include creating a 4,000-tree new woodland at Snipe Clough in Oldham, a former landfill site, as well as working with the local community and school to bring a Wythenshawe woodland back to life.
City of Trees also specializes in greening-up urban areas, and advocates for the importance of planting trees in towns and cities. Mr. Stringer comments: "It is about planting trees wherever it's appropriate and ensuring we plant the right tree in the right place – at the right time."
The City Forest Park Project
Flagship schemes for the movement include The City Forest Park Project which is an exciting new vision in partnership with the Forestry Commission creating an amazing urban woodland on an unprecedented scale. City Forest Park is a network of private land, unused sites and managed public space just three miles from the heart of Manchester City centre. Standing at 330 hectares, it's the size and scale of Central Park in New York.
Alongside the Forestry Commission, City of Trees hopes to breathe new life into it for the benefit of the whole city-region community, transforming the landscape by planting trees, bringing woodlands back into use and creating new paths and cycle networks. Stringer comments: "This is an ambitious project and we're seeking investment to help realise the vision and create a truly amazing forest park for everyone to enjoy."

The charity also relies on the power of trees to counter excess surface water which can lead to flooding in cities and towns. Their Howard Street Project, for example, is the first of its kind in the UK: in June 2015, three London plane trees were planted in a specially designed trench in Howard Street, Salford, to capture the impact that trees have on cleaning polluted water from road run-off and managing levels of surface water, which can lead to flooding.
The project produced promising initial monitoring results (June 2016) which revealed that the average water volume retention by the tree pit system was approximately 40% and the average storm peak reduction was 50%. Storm waters were also slowed by the system by up to two hours. Dr. James Rothwell from the University of Manchester, who is leading the research element of the Howard Street Project, says that "these results demonstrate that retrofit tree planting schemes in towns and cities can be used as a nature-based solution to tackle urban flooding."
Retrofit tree planting schemes in towns and cities can be used as a nature-based solution to tackle urban flooding.

Dr. James Rothwell
And that is not all – City of Trees is part of the so-called 'Northern Forest' – a 25-year vision to plant 50 million trees across the North of England – stretching from Liverpool to Hull. The Woodland Trust and the Community Forests (that includes City of Trees) are driving forward this government-backed initiative: spanning over 120 miles across the cities of Bradford, Salford, Hull, Leeds, Manchester and Liverpool, the proposed new Northern Forest will help provide natural flood management, boost wildlife habitat for woodland birds and bats and protect ancient woodland areas and iconic species such as the red squirrel, alongside providing a tranquil space for millions of people living in the area and generating more than £2 billion for the country's economy.
We know that trees and woods are an essential part of the fabric of our lives and provide us with a huge range of benefits.

Peter Stringer
Stringer concludes: "We know that trees and woods are an essential part of the fabric of our lives and provide us with a huge range of benefits. We're working to ensure that they are considered as part of all future growth and development, as we believe they play a crucial role in ensuring Greater Manchester becomes a world class city-region we can all be proud of." 
For more information, visit: www.cityoftrees.org.uk
Join Planet
REVOLVE today
We strive to communicate sustainability for a better world for the next generations.
Support us by becoming a member of REVOLVE Planet today.
Become a Member