A public information campaign celebrating the energy transformation.
Visualizing Energy is a photo exhibition highlighting the human dimension of the energy transition by showing workers in action on renewable energy, energy efficiency, energy storage and smart grid projects around Europe and beyond.
REVOLVE has worked with numerous partners, including IRENA for CoP23 in Bonn and the UNDP in Brussels and New York on their respective exhibitions.
Join us in Brussels during EUSEW 2020 to celebrate our 10th anniversary and the energy transition!
Visualizing Energy is returning to Brussels in summer 2020 during and after the EU Sustainable Energy Week. Highlighting the human dimension includes showing social transformation, encouraging gender equality, and the role of innovation, youth and entrepreneurship in making sustainable solutions and greater resilience a reality. These projects and solutions will be shown in the photo exhibition, the companion booklet and the 'best of' will feature in our magazine: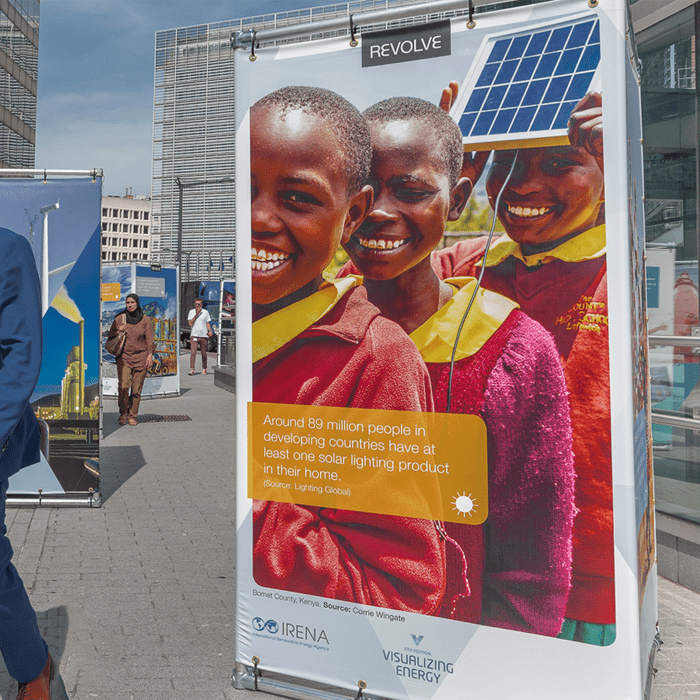 To contribute, please fill in the form and do not hesitate to call us to discuss your ideas and projects.
Résidence Palace (tentative display)
Esplanade of the European Parliament

Repurpose your canvas into shopping bags or document folders / computer pouches branded with your logo for your events:

Exhibitions Publications Videos
Visualizing Energy